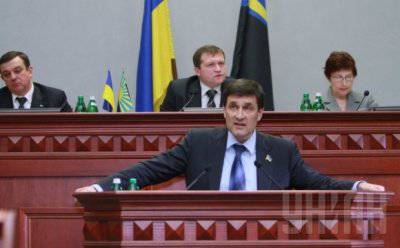 Donetsk Regional Council urged the Verkhovna Rada to give the Russian language the status of the second state. This is stated in an open letter to the head of the Donetsk Regional Council, Andrei Shishatsky, the text of which is made public on the website of the Donetsk Regional Council.
"Consolidation of joint efforts of the constructive forces of society aimed at achieving political stability, preserving civil peace and harmony is possible only through the adoption by the Verkhovna Rada of a new wording of the Constitution of Ukraine and a number of priority laws," the regional council letter said.
The Donetsk Regional Council believes that the new version of the Constitution of Ukraine should guarantee the decentralization of power by expanding the powers and responsibilities of local government for the state of affairs in the region, as well as the creation (before the parliamentary elections) of a bicameral parliament in which the upper chamber will express the interests of the regions members will be given the right of legislative initiative.
The Donetsk Regional Council also proposed the Verkhovna Rada to urgently consider the issue of adopting the Law of Ukraine on a local referendum.
Donetsk deputies offer to give Russian the status of a second state language.
"Considering
historical
, national, cultural traditions of the population of Donetsk region, taking into account that the Russian language is the language of communication of the population of the region and is recognized by the law on the foundations of the state language policy in Ukraine as regional. Supporting the demands of residents of the Donetsk region, we demand that the Russian language be given the status of a second state language by introducing appropriate amendments to the Constitution of Ukraine, "the statement said.