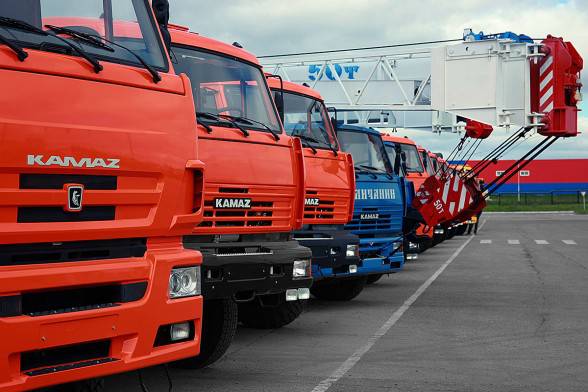 The 43 KAMAZ vehicles illegally seized in Ukraine were transferred to their legal owners - the KAMAZ Trading Company in Chernihiv, the automaker press service reports. KAMAZ vehicles were shipped from the company's warehouse in Chernigov to Kazakhstan.
"... 43 of the car, which were seized by unknown people in Ukraine, were transferred to their rightful owners - the KAMAZ trading company in Chernihiv," the automaker said in a statement.
A consignment of KAMAZ vehicles intended for distilling to Kazakhstan was seized on March 16 by armed men who introduced themselves as Maidan self-defense fighters.
On the outskirts of Chernigov, the KAMAZ convoy was stopped by armed men, who demanded to show the documents on the basis of which the vehicles were being exported. They were presented a declaration confirming the export to Kazakhstan. Private security forces called in the place of representatives of the police and traffic police.
The arguments of the representatives of the Russian side that the column was moving to Kazakhstan, and the products were not state property, were not perceived. Since then, the trucks were under the control of the "Right Sector".
KAMAZ
- the largest Russian enterprise for the production of trucks. It includes more than 150 organizations located in Russia, the CIS and other countries, including 12 large automotive factories. It has assembly plants in Vietnam, Iran, India, Kazakhstan, and Pakistan. The number of employees exceeds 59 thousand people.