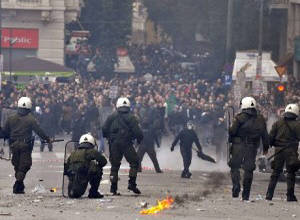 Syria's opposition, the rally against the government for the fourth week, posted on the Internet a secret instruction for the security forces involved in suppressing the rally.
The document, in particular, makes recommendations to the guards of order not to kill more 20 demonstrators per day, since exceeding this number may attract undue international attention to Syria.
In addition, the instructions say that the special services should place responsibility for the riots in Syria on other countries - first of all, the "Zionist regime." Law enforcement officers are advised using the Internet to rub into the credibility of the opposition, pretending to be their supporters, and collect important information on their future plans, reports NEWSru Israel.
The document recommends that the police and the army should not interfere with "specially trained civilian agents" who must infiltrate the crowd in order to organize provocations. From the instructions it follows that the leaders of the demonstrators must be destroyed by snipers, and they must do so, carefully disguised.
As indicated by the authors of the instructions, in the area in which anti-government demonstrations take place, you should immediately disconnect telephone, mobile communications and electricity, as well as close access to the Internet. After that, it is recommended to proceed with the arrest or liquidation of opposition leaders. In the US, they say that they cannot yet unequivocally answer whether the instruction is genuine.