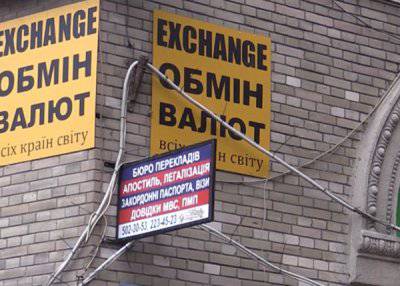 From May 1, the National Bank of Ukraine will introduce restrictions on the sale of currency in the country. These restrictions are planned to be introduced exclusively for individuals. This decision was made by the National Bank due to the fact that lately the interest of Ukrainian citizens in foreign currencies (primarily, in the dollar, euro and ruble) has increased significantly. Approximately the ceiling of daily purchases may be the purchase by one person of a currency in the amount of about 15,5 thousand hryvnia (about 1,4 thousand US dollars). That is why to take out of the banks currency bags or using
wooden boxes
as someone could have imagined, individuals will definitely fail. Yes, and with the availability of currency in such volumes that today would require the need for boxes or bags for its transportation, obvious problems can be seen.
Already now, it is very difficult to find the exchange office where you could easily buy, for example, dollars or euros, in Ukraine. If a currency appears in one of the exchange points, then it is bought up like hot cakes.
Ukrainians themselves explain this by saying that they have ceased to hope for their hryvnia. The hryvnia is indeed in such a position that it can sink to world currencies at any time. Today, from a sinking to a historical minimum, it keeps the promise of Western countries to provide Ukraine with a loan. But the loan can not be called a full-fledged medicine for the hryvnia. Credit obligations will have to be fulfilled, and this is already a special burden on the Ukrainian budget, which today is a sad sight. Wage arrears already exceed one billion hryvnia. In large enterprises, the workers received their wages for the last time in December-January. After the new people come to power, the Ukrainian economy moves along the edge of a knife.
The economic situation for Ukraine today is complicated not only by the need to take a loan from the IMF on bonded terms, but also by the need to purchase Russian gas without discounts. Ukraine received discounts on the Kharkiv agreements, but Russia denounced these agreements in connection with the transition of the Crimea and Sevastopol to the Russian Federation. Accordingly, Kiev does not need to pay for renting the Russian Black Sea Fleet. This reduces the income of the Ukrainian budget.