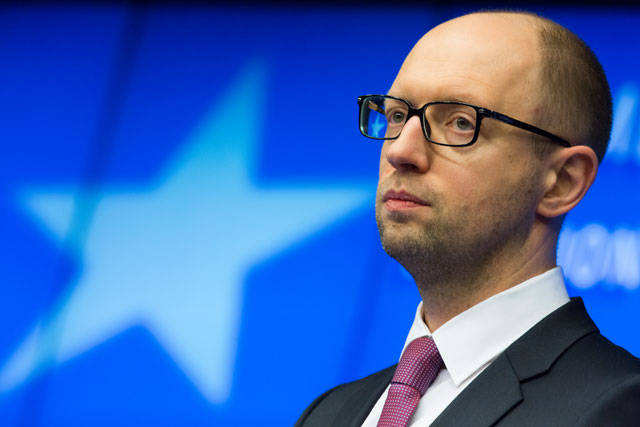 Ukraine is on the verge of financial and economic bankruptcy, Arseniy Yatsenyuk, appointed by the Verkhovna Rada Prime Minister of Ukraine, said at a meeting of parliament. The budget deficit in Ukraine will be 289 billion hryvnia in 2014 year. This is about 28 billion dollars. Inflation will be within 12-14 percent.
Arseniy Yatsenyuk noted that the fall in gross domestic product (GDP) for the year is projected at 3 percent. "Such a fall will be if we take the package of stabilization measures proposed by the government," the acting head of the government of Ukraine explained.
Otherwise, Arseniy Yatsenyuk warned, Ukraine will face an 10-percent drop in GDP, ITAR-TASS reports.
At the same time, Arseniy Yatsenyuk stressed that the Ukrainian government would not allow default and bankruptcy of the country.
Ukraine plans to increase the price of natural gas for household consumers (population) by an average of 1% from 2014 in May 50. The increase will occur within the framework of a phased schedule of bringing gas prices for the population and TKE to an economically reasonable level to 2018 of the year.
From 1 July 2014, it is planned to increase tariffs for TKE by 40%. At the same time, he clarified that in this case we are talking about raising tariffs for TKE, and not an increase in 40% of the price of natural gas for them.
After the transition of Crimea and Sevastopol under Russian sovereignty, the subject of the so-called Kharkov agreements between Russia and Ukraine was lost. As a result, Kiev's sovereign debt to Moscow will increase by about $ 11 billion. It was for this amount that the Russian government provided the Ukrainian side with a discount on gas under the Kharkiv agreements. The money that the Russian budget lost as a result of the discount should go towards paying for the stay of the Russian Black Sea
fleet
in Ukraine from 2017 to 2042.
According to the Kharkiv agreements of 21 on April 2010, the rent for the Russian Black Sea Fleet on the territory of Ukraine, starting on 28 in May 2017, consists of Russian payments to Ukraine in the amount of 100 million US dollars per year, as well as from additional funds received from reduction from the date the agreement enters into force gas prices in the amount of up to one hundred dollars per thousand cubic meters from the established contract in force between NAK Naftogaz of Ukraine and OAO Gazprom.