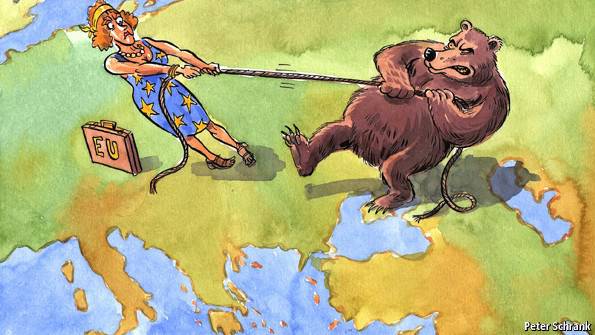 If we take a segment of ours
stories
over the last hundred years, it will become clear: we have almost always been in "strange" relations with the West. It should be noted here that by the West I mean Anglo-Saxon civilization. Relations with Germany were simpler: we fought with her, put up with it and fought again. The Germans are simple people, almost the same as we are, only pedantic.
Well, the relationship with the Anglo-Saxons was much more complicated. Probably to match their nature. Here I want to clarify again that my remark relates to the ruling elite of foggy Albion and the true rulers behind the host of the White House. So, when we were in allied relations with them or simply in "good relations", "incomprehensible" disasters always happened in a "strange" way with Russia.
In the First World War we were with them allies in the Entente. And we "suddenly" had the same Maidan, as in the present Kiev, only on an All-Russian scale. How they helped us then and then, you can read from Nikolai Starikov - very curious facts leads.
After the First World War, we were in a confrontation with them, and immediately went very heavy, with a falling out of the hernia, with the way of industrialization that was shaking with overstrain with their feet. To survive. It's not yet clear to anyone to stand up - relations with pre-Hitler Germany were then very good.
In World War II, we again became allies. After Hitler attacked us in 1941 year. And they, fighting with him from 1939 of the year, to 1944 of the year, "saved up" forces in order to "fall upon" Hitler's Germany right at the time when we smashed this Germany into its territory.
No, well, they helped us with lend-lease supplies. For the gold. They even stinted with their principles and accepted the gold mined in violation of all human rights by political prisoners in the Kolyma. Probably, it was extremely hard for them to step over their principles and accept this gold, but they accepted it. And they showed everyone what it means to help them understand. If your neighbor (not by the night, be told) burns down the house in winter, and you, as an abnormal person, give him a brand new sheepskin coat, it will be wrong. Not politically correct. But if you sell it to him (you can loan it), this is it - you are their person, and you can stop reading this article.
Once again I want to emphasize that the peoples of Western countries are one thing, and their rulers are completely different. And I am sure that all the people of the former Soviet Union treat with great respect those soldiers who fought with Hitlerism, those sailors from England, the USA, Canada, distant New Zealand and Australia and other countries that drowned in the waters of the northern seas, that they died from wounds and burns and are now in the military cemeteries of Murmansk and Arkhangelsk. Honor them and glory. And eternal memory.
But after all, at a time when these heroes were dying, someone (perhaps even rubbing their hands) was putting gold in their safes. And traded with Hitler.
After the war, the West suddenly remembered that we were not so tolerant, and declared a cold war to us. Confrontation again. Again we had to pull in and launch the first satellite first, and then the man into space. Well, the bomb they steal. How else? To live with wolves ...
And at the end of the last century, we became friends and allies with them again. And the country again rolled into the abyss. As in 1917.
There is, of course, a category of citizens who believe that in 1990, we had a triumph of democracy and there was unlimited freedom of enterprise. There are such. But I personally see this category only on TV, although I do not live in a vacuum. And the latest events in the country show that this public is small, hypocritical and exists on dark revenues. These people see allies in the West (it is very doubtful, however, that the West considers them allies, not agents of influence).
Most citizens choose confrontation. The West has brought its policy towards Russia to such an extent that we feel with the spinal cord a threat emanating from friendship with the West.
You can also note that the West (Anglo-Saxons) is a great master of arranging his tricks not only with Russia, but also with the rest of his loyal allies. For example, the creation of the same EU and the transition to the euro. One of the most active skirmishers of this grandiose post-war operation was the United Kingdom. She actively participated in the creation, expansion and introduction of the single currency practically throughout the entire territory of Western and Central Europe. And she stayed with its national currency. What is it? Disbelief in their offspring? Oh yeah, the famous English conservatism! .. Heard. Parliament in wigs, aristocratic tuxedos with neatly darned holes, file-o-shred, etc., etc. How does the recently adopted law on same-sex marriage fit into this conservatism? Or has this institute long been characteristic of English conservatism? Riddle. Here, without the "Higher Sociology", perhaps, you will not understand.
The latest events in Ukraine have also shown how Britain is true to its allied duty. Suffice it to recall that on February 21 a treaty with Yanukovych was signed by the foreign ministers of France, Germany and Poland. Normal position. Whatever offspring degenerates from this treaty, the UK remains on the sidelines. And let France, Germany and Poland remain fools or heroes.
By the way, about Poland - the main masochist of Europe. Nobody needs to explain that any more or less sane government of any of the countries of Africa, Asia, America or Europe is interested in bordering on friendly states. Any sane. Only not Polish. Throughout the history of their statehood, almost all Polish governments traditionally went to confrontation with us. And traditionally fled under the protection of London. And London traditionally and safely betrayed them, using only as a bargaining chip. Even the "enemy" Stalin gave Poland in territorial terms more than their "friend" Churchill. However, the Polish government treated their people in the same way as their London patrons. Betrayed.
Another small digression. If we apply the Kosovo precedent to post-war Poland and Czechoslovakia, then they also had to be bombed for the mass (and often bloody) deportation of the Germans. Well, yes, these facts prosperous Europe safely forgotten.
It turns out that the gentlemen of the Anglo-Saxons betrayed everyone and always. Notwithstanding any agreements and arrangements. They differ from our tsarist, Soviet and Russian governments in that their governments always piously honored international obligations. Often at the expense of their own interests. And the West kept its obligations only as long as they are profitable for them.
So, to sum up, it turns out that confrontation with the West for us is the lesser of two evils. Yes, it is difficult, yes, it is difficult, but we remain who we are, and do not turn into a faceless and even asexual mass of the European community.
But we must proceed from the realities of the modern world order and build on the events taking place in the world today. Confrontation is still not the best choice. We must not forget that in the West there is a fairly large part of society that does not want to be faceless and sexless Europeans. I hope they will come to the leadership of their countries.
What to do, until they came to power?
I'm not a big fan of Lenin. Rather the opposite. But you have to give him his due - he was a pragmatist. And one of his slogans is more suitable for current relations between Russia and the West than ever. "Neither peace nor war!" And let them have a "roof off" there from our silence.
So nothing terrible will happen if our president misses a couple of meetings with representatives of patrons of obscure sex minorities. In the end, it is necessary to respect the possible disgust of our president (to shake hands with these representatives ...) And then, you see, normal people will come to politics, with whom it is not a sin to greet.