18 March 2014 made the first flight of the third AgustaWestland AW139 helicopter (60003 serial number, 603 tail number) assembled on the HeliVert joint venture in Tomilino, which was created by Russian Helicopters and AgustaWestland.
The preliminary agreement on the creation of a Russian-Italian joint venture HeliVert for the production of a civilian AW139 helicopter was signed by AgustaWestland and the Russian Helicopters holding at the Farnborough air show in July 2008. After that, 6 November 2008 was followed by the signing of the Joint Venture Agreement, which took place in the presence of the Russian and Italian prime ministers, Vladimir Putin and Silvio Berlusconi. In the summer of 2011, the main regulatory documents regulating the activities of the joint venture CJSC HeliVert were signed in France, and in January-March 2012, the specialists of CJSC HeliVert already completed training in Italy at the AgustaWestland training center. There are currently 115 employees at the plant in Tomilino.
The first AgustaWestland AW139 helicopter assembled at CJSC HeliWert (serial number 60001, subsequent Russian registration RA-01996) made the first flight in Tomilino 19 December 2012 of the year, and the second helicopter (serial number 60002) - in April 2013 of the year. All three helicopters assembled so far are completed in the VIP package.
Thus, it can be stated that the opening of the AW139 assembly at CJSC HeliVert is conducted at a rather low pace. According to the well-known initial plans, it was planned to assemble four cars in 2013 year (from 60002 to 60005), but only now the third flight made the first flight. Apparently, there are also difficulties with sales of AW139 collected in Tomilino.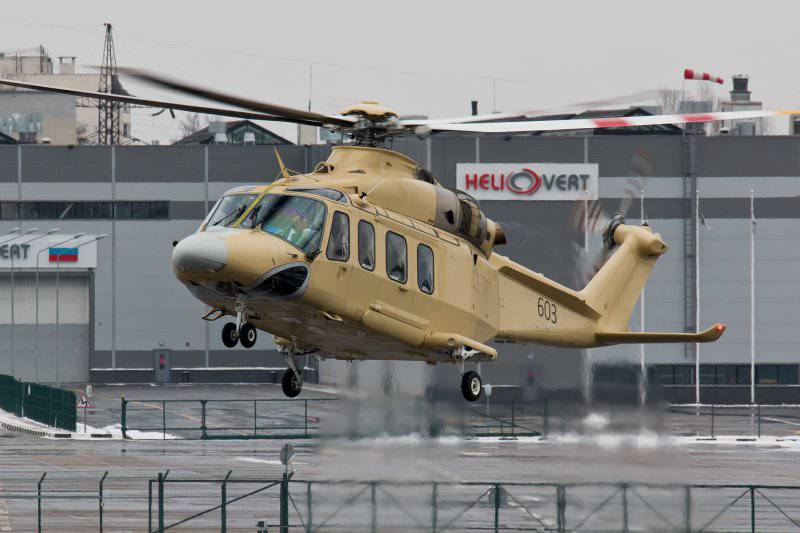 The third AgustaWestland AW139 helicopter (60003 serial number, 603 tail number), assembled at the joint venture HeliVert CJSC in Tomilino, during the first flight. 18.03.2014 (c) kabuki / aviaforum.ru