20 March 2014 of the Italian company Alenia Aermacchi (part of the Finmeccanica group) in Venegono Superior (Lombardy) held the rollout ceremony of the first M-346 Master training aircraft built for Israel (tail number "102"). In the Israeli Air Force M-346 aircraft will receive the name Lavi.
The contract for the supply of Israeli Air Force 30 jet training aircraft Alenia Aermacchi M-346 Master was signed by Finmeccanica in July 2012 of the year. The total amount of the agreement on the purchase of aircraft by Israel is about 1 billion dollars, including the supply of the M-346 aircraft themselves, engines, simulators, maintenance, spare parts and personnel training. Of this amount, Alenia Aermacchi, which is part of the Finmeccanica group of companies, which will supply the X-NUMX M-30 airplanes themselves, will cost approximately $ 346 million. The first M-600 aircraft must be delivered to Israel in the middle of the 346 year.
In the Israeli Air Force, M-346 will replace the highly trained training aircraft used up to now and the McDonnell Douglas TA-4H / J Skyhawk (Ayit) transitional aircraft in the 102 squadron at the Hazerim airbase (so maybe 102 "on the first rolled out Israeli M-346 is conditional and pointing to the squadron). Israel became the third and largest customer of the M-346 aircraft. Previously, these machines were ordered by the Italian Air Force (contracted six aircraft with an option for nine more; three aircraft have now been delivered under the designation T-346A) and Singapore (12 aircraft contracted; deliveries were started at the end of 2012 of the year and must be completed in spring 2014 of the year ). In February, 2014 entered into a contract for the purchase of eight M-346 aircraft from Poland.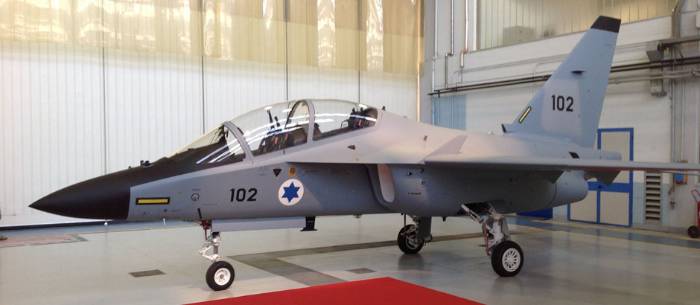 The first M-346 Master (Lavi) aircraft manufactured for the Israeli Air Force, rolled out at the Alenia Aermacchi facility in Venegono Superior. 20.03.2014 (c) Finmeccanica