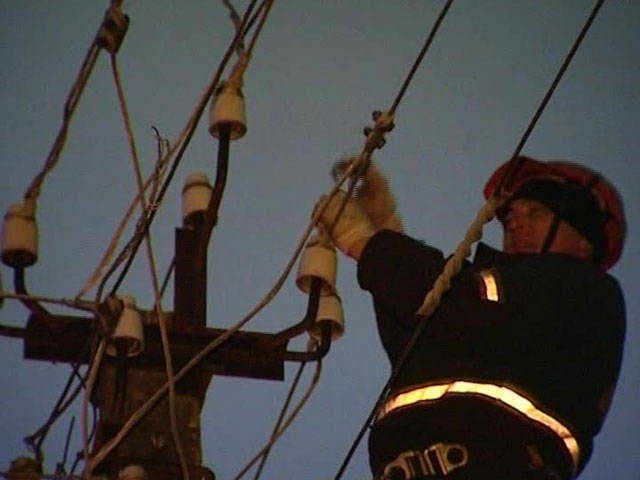 In several Crimean cities on the evening of Sunday, March 23, electricity was cut off. The capital, Simferopol, as well as Evpatoria, Saki, Theodosius and Armyansk partially plunged into darkness. As it turned out, Ukraine halved the supply of electricity to the Crimea. This was announced by Deputy Chairman of the Council of Ministers of Crimea Rustam Temirgaliyev. According to him, after reducing the capacity of the "Crimean energy system" in accordance with the rules held a planned fan-off facilities on the peninsula. Currently, about a third of the territory of Crimea, which, according to experts, is 80 percent dependent on imported electricity, is de-energized, reports the Russia 24 channel.
After reducing the power "Crimean energy systems" began to disconnect objects on the peninsula. "Now there is a planned fan-shaped system shutdown depending on the volumes of electricity supplied. Currently, about 30 percent of Crimea is de-energized," said First Deputy Prime Minister of the Republic of Crimea Rustam Temirgaliyev. "This is not the limit of the fall. If the remaining 50 percent is turned off, the situation will still be more difficult".
At the same time, the official said that even in this case, the main problems will be solved in a month and a half - thanks to 900 mobile diesel generator sets dispersed throughout the peninsula, as well as three thermal power plants that are planned to be launched at full capacity. "If Kiev will behave this way, we will have this mode of limited energy consumption for about a month and a half, then it will be easier," Temirgaliyev said.
Meanwhile, the energy specialists themselves reported that the cause of the outages was the forced repair of the Kakhovka-Ostrovskaya and Melitopol-Dzhankoy power lines, two of the four power lines that supply electricity to the peninsula. This was stated in the company "DTEK Krymenergo," which conducted a trip to the peninsula. At the same time, the company referred to the order received from the "Crimean Electric Power System".