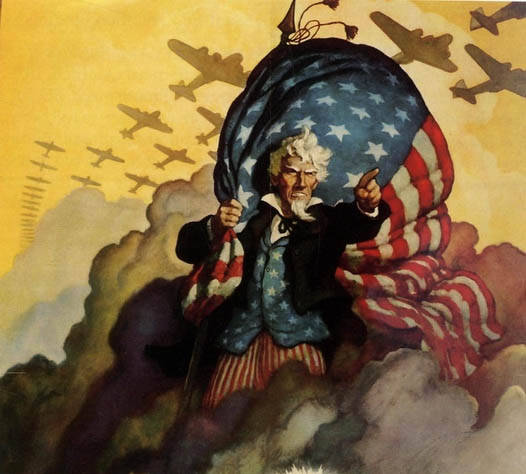 After all, what was expected? West dreamed Of a place where people live gods. Who do the Miracle. Like yogurt.
Die hard chase any army. The chief president himself will board the plane to vzamat the newcomer right on Independence Day. You listen to how it sounds: US 6 fleet. The aircraft carrier "George Bush". Operation "Unshakable Freedom". NATO aggressive block. Song! And all this is for you.
No matter what you did. Like, they gave you in the courtyard your nose for being a cheater, and you are leading an elder brother, a bull, which is to your offenders the "sandstorm storm" operation. And you are so close, jubilant: "well, who else is on us with NATO?".
And super-generous supermen to all the people who swore allegiance to them for free are building super-economies. In which you do not have to work and sell vulgar oil, but only provide services without departing from the iPad, for which you will receive super-salaries and supercredits. At the same time, Master Propper will come and clean up corruption, and Ronald MacDonald will feed the hungry. All-powerful CNNs from any of your aggression will draw aggression against you, and they will do everything so telegenically that even the most arrant Yarosh will suddenly feel themselves an old democrat: "- Do not be angry, boyar, I do not recognize you. Al you are a prince? - I? Please prince! And what's so amazing about it? "
The prince is a prince, but you will not be full of bandera. And on moskalyaka on Gilyak you can not cook dinner. They were not expecting a bandera, but oysters. Otherwise, what did you fight for? Not for freedom in the cellars and wallets? So now how to explain to the believers in supermen all these bummer? They are like children, to you with a pure soul: "Yes, I sold Russia to the garage!" And you them: well done! Vooon there, beyond the horizon, waiting for you for this membership. Full membership. In the meantime, "ready to consider a loan of a billion."
Supermen, are you crazy? Yes, we Putin here already 15 of these billions at times out of his pocket took out. Where is the golden rain, I ask you? And where are the cowboys versus the polite newcomers? And then the sanctions to the Soviet Ryzhkov ?! You still have Stalin to enter Texas ban.
Having sobered up, even Yatsenyuk, at last, read the agreement with supermen, for which a whole hundred had already been shot at the sky. I read and ofigel: "not, over-babies, SUCH - only after the presidential election. Because anyone who signs this is not something that will not get to the presidency, but, in an amicable way, the honorable hundred will be honored to head. "
And after all right: I took my hand - marry. Well, it turns out this way - they seduced a bespridenit with cookies, circled her head with walks on aircraft carriers along the Volga, and songs about shaggy eurospine, which is 100% thicker than moskalyach. And now - in the bushes? I, following the Maidan, also insist: I seduced the girl with European glitter - pay. Well, you yourself have announced an open competition: anyone who betrays Russia and will make her the most disgusting, we will declare a lifelong democrat and gild for Moskalsk's head. Here are people to you and stretched. What is not the most attractive - necha nose to turn up, so what they are. Bear teased how ordered - submit reward and protection, promised. What does it mean - we have nothing to do with it? How so - all by yourself, in a spontaneous European Challenge? Is it for free, is it?
However, this is their business. We need to equip the Crimea, not to their squabbles on the topic: "but in the morning they woke up." And they saw each other on the sober and without makeup. Sanctions to us, again - where do without them. When the West is a hell of a lot, he always imposes sanctions on someone. Because, who introduced the first sanctions, that and international legal sneakers.
But
read here
Iron Chancellor: "At the upcoming summit it will be clear that we are ready at any time to introduce the third phase of punitive measures." And, you know, something bad moved.
When the leader of a united and indivisible Germany speaks of punishers, yes, Muscovites and women involuntarily unite associations. I understand everything, this, of course, is not my business, but you, the former brothers, before European integration on the most tomatoes, just in case, try to figure out a skull. Well, as supermen, not all Ostarbeiters are recognized as full-blooded democrats ...?