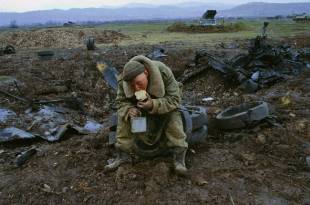 Below you will see the 61 frame of the Russian military correspondents who shot the war specifically, close, head on, in different regions, during the last 25 years. These photos were carried across Moscow instead of slogans and banners by the participants of the March of the World 15 March, writes http://bigpicture.ru.
In each frame - one instant, hundredths of a second, therefore the whole exhibition in the sum is not more than "One second of war". But if you just look at these frames, one by one, without turning away and not closing your eyes, the whole verbal anti-war agitation becomes, obviously, superfluous.
Photojournalist Victoria Ivleva, organizer of the action:
- In all these pictures you see the war - a dreary, dirty, vile war. And the people affected by it. All photos were taken by very courageous people - my colleagues are war correspondents. We carried these terrible images of war along Moscow boulevards, passing by a column in an anti-war march. Our marching exhibition was called "One Second of War".
Do not think that the war feeds journalists. It cripples us and turns us inside out. Charms and makes sick. We forget it for years. But she still somehow reminds of herself.
We do not specifically write under the pictures in which country or part of the world they are taken. It is enough that this happens on planet Earth.