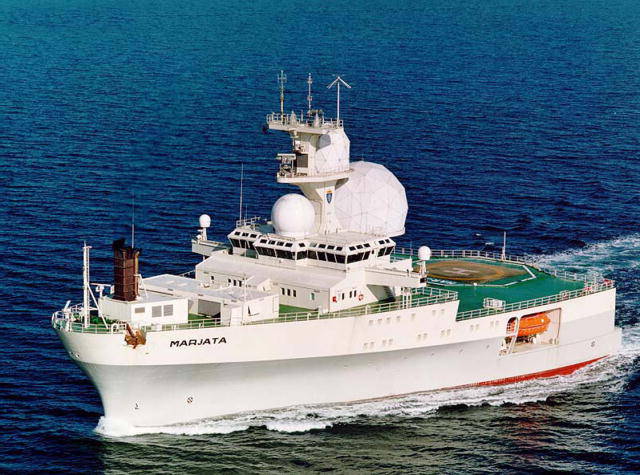 According to ARMS-TASS, the ultra-modern reconnaissance ship is to be used by the Norwegian Navy in 2016
As reported by the media of the kingdom, the ship's hull was delivered to the shipyard in western Norway from Romania, where it was built, at the beginning of the week. In the coming months, the ship will be equipped with a variety of electronic equipment.
The new reconnaissance ship will be significantly larger than its three predecessors, the last of which should be decommissioned in a year, however, like them, it will receive the name Maryat. The total project cost is 1,5 billion crowns (250 million dollars). According to Lieutenant General Kjell Grandhagen from the military intelligence directorate, the new ship was developed taking into account the arctic conditions in which it is to operate.
"For Norway, it is strategically important to control the development of the situation in the Arctic," said Grandhagen. "The decision taken in 2010 by the Parliament to allocate a significant amount of funds to finance the project reflects the kingdom's priorities in this area."
The reconnaissance ship Marjata, which is now serving its last year, has been repeatedly involved in incidents at the Russian-Norwegian border, ITAR-TASS reports. The new ship will also become the "eyes and ears" of the Norwegian military in the Barents Sea and the Arctic Ocean, but according to Karsten Friis, an employee of the Norwegian Foreign Policy Institute, relations between the two countries will hardly worsen.
"The constant conduct of intelligence activities is a normal state of affairs," the expert noted. - The Russian side has repeatedly expressed its claims to Norway regarding the activities of "Maryat", but in practice this is a practice accepted by all the parties. Russian reconnaissance ships, in turn, are activated during NATO exercises in Norway, and this does not seem unusual to anyone. "