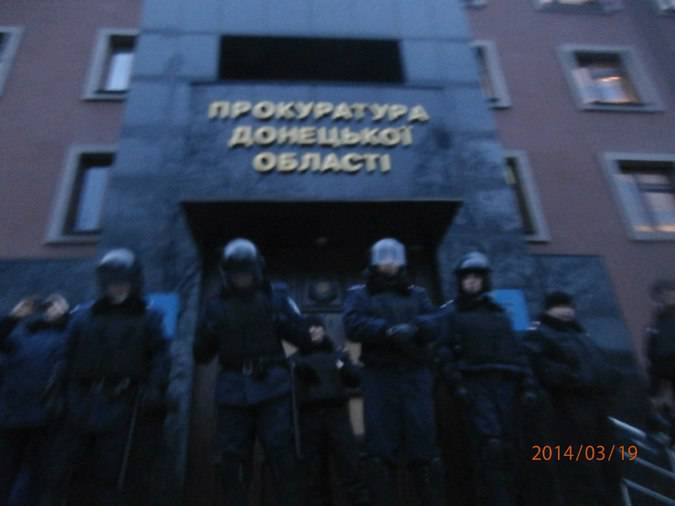 The results of the illegal actions of the Ukrainian special services were mass arrests, arrests and deportations, not authorized by the court and the prosecutor. The revolutionary struggle against dissent is in full swing.
On Wednesday, March 19, the Security Service of Ukraine carried out the illegal detention of two pro-Russian activists in the very center of Donetsk, Alexander de Krog, one of the leaders of the Donetsk Republic national movement, told Reedus.
At three o'clock in the afternoon, during a mass gathering of people, the SBU operatives from Kiev, who arrived in a tinted minibus, detained Andrey Purgin and Alexey Khudyakov without any legal grounds. Later Khudyakov was taken away in an unknown direction.
Companions of the activist immediately appealed to the prosecutor's office with a statement about the abduction of a person. A spontaneous rally began around the building of the supervisory authority, bringing together up to a hundred people who disagree with the illegal actions of the new Ukrainian authorities. Police officers (as it turned out later - by an informal order of representatives of the SBU) started to detain people; in total, 15 people were brought to the police departments. Their passport details were rewritten, dactyloscopy was performed, photos were taken.
The further fate of Alexei Khudyakov turned out only on Friday night: a Russian citizen was illegally expelled into the territory of the Russian Federation, a special stamp was put in his passport, which actually spoiled the document. In an aggressive form, the employees of the Ukrainian "security", without any alternative, demanded that they never again enter the territory of sovereign Ukraine "in the interests of their own security." Residents of Donetsk consider these illegal actions to be another element of a targeted campaign of intimidation of people who do not want to obey the illegitimate authorities in Kiev.
We remind you that a week ago the Kiev SSU also stole Alexander Golovin in Donetsk without at least formal grounds. Relatives for several days could not know the fate of the guy. After three days, we managed to find out that Golovin was in the Lukyanovka SIZO in Kiev. According to unofficial information, the secret services decided to protect Golovin from society, since he had a telephone conversation with a "suspicious journalist from Russia" the day before the abduction.