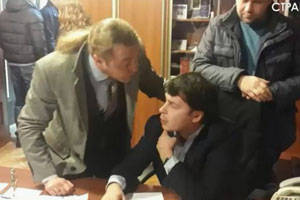 Many Lvov citizens sharply condemned what Svobodovtsy did in the NTU, knocking out the resignation of its leader. This is the correspondent of controversy.
In particular, immediately after the scandal in social networks, Lviv residents massively condemned such actions. Some call it a provocation, others - direct complicity of the FSB of Russia in the split of Ukraine.
"This happens at a time when Ukraine is losing. Knowing the attitude towards the Svoboda party in the eastern and southern regions (and Western Ukraine is already disappointed), representatives of this force allow themselves to solve their selfish issues with such gangster methods. Or maybe we're not looking for a 5 column there? "Writes Lviv Anneta Sadovska.
But Igor Balynsky, the head of the master's program in journalism at the Ukrainian Catholic University, wrote: "In Galicia, one often hears that the East and South of Ukraine, with their nostalgia for the Soviet past and orientation to Russia, constitute a key threat to the country's unity, its European future. I'm sorry for the tone: garbage is all! Today, the source of the split of the country are Gopnik from "Freedom" and the silent connivance of their actions in Galicia and Kiev. The "dismissal" of the head of UT-1, which was demonstrated by the people's deputy - once journalist Igor Miroshnichenko, is the basis for the opening of criminal proceedings and the removal of parliamentary immunity from him. And if Galicians dream of living in a conciliar state, Freedom should become political marginal in Western Ukraine, when meeting with them it is better to cross to the other side of the street - so as not to become stained. "
Today, activists even organize a picket of the RSA, which is led by the governor-svobodovka Irina Sekh. The picket will be held under the slogan "Lvivians ashamed of" Freedom.
Recall, March 18 deputies from "Freedom" Igor Miroshnichenko, Andrey Ilyenko, Bogdan Benyuk and others came to Panteleymonov's office, he was hit several times and forced to write a letter of resignation. Svobodovtsev was outraged by the broadcast of the First National March 18 of the signing ceremony of the agreement on the accession of Crimea to the Russian Federation.
The video of the incident was laid out by Svobodovets Alexander Aronets, but some time later it was deleted. However, the recording was copied and remained online. Prime Minister Arseniy Yatsenyuk and Interior Minister Arsen Avakov called the actions of Svobodov unacceptable. However, Avakov noted that the Prosecutor General's Office should assess the actions of the deputies. Position and. about. Prosecutor General takes Svobodovets Oleg Makhnitsky.