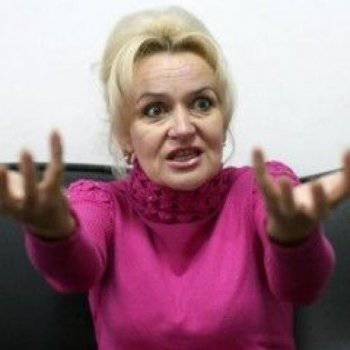 With a call to consider the possibility of banning the entry into Ukraine of cultural figures of Russia who supported the actions of the President of the Russian Federation on the occupation of the Crimea, Irina Fahrion appealed to a number of departments People's Deputy from VO "Svoboda". The parliamentarian sent the relevant letters directly to the Minister of Internal Affairs Arsen Avakov, and. about. Foreign Minister Andrei Deshchitsa; Chairman of the State Migration Service Nikolai Kovalchuk; Chairman of the State Border Service Nikolai Litvin; Chairman of the Security Service Valentin Nalyvaychenko. Reported the press service of the party.
The appeal of the People's Deputy concerns the document entitled "Culture Workers of Russia - in support of the President's position on Ukraine and Crimea", published on the official website of the Ministry of Culture of the Russian Federation. This document is currently signed by 415 cultural figures of Russia.
Farion notes that the document represents a threat to the national security and territorial integrity of Ukraine. According to Freedom's conviction, with their signatures, these cultural figures showed that their mission in Ukraine was and remains a humanitarian, ideological and informational occupation, and not an exchange of cultural achievements of two peoples. "Given this, all those who have signed the said document, in fact supporting the Russian authorities in annexing parts of Ukraine, should be subject to sanctions adequate to their publicly expressed position," the nationalist said.
Irina Fahrion notes that some of these cultural figures have already been sanctioned in other countries. In particular, a boycott was declared in Georgia to Sergei Bezrukov because of his support for Putin in the matter of the occupation of the territory of Ukraine. President of the Chamber of Culture of Georgia David Okitashvili announced the cancellation of the performance of the Bezrukov Theater scheduled for May 2014 in Tbilisi. In Lithuania, members of the Seimas proposed that the executive authorities ban Russian singer Oleg Gazmanov from entering the country and cancel his concert in Vilnius.
Recall that a list of Russian cultural figures who signed a letter in support of the position of the President of Russia was published earlier. This list is constantly updated.