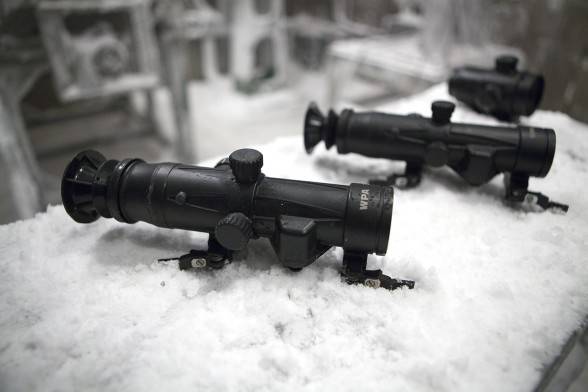 The company "Shvabe - Defense and Protection", announced the launch in the sale of its new sight interchangeable increase (CSP). A special feature of the sight is internal adjustment and fixed magnification. The design allows you to instantly switch between single and quadruple zoom.
The sight has two fixed positions, which are switched by a special lever on the left side of the device. Using a single magnification is convenient to use on a driven hunt. If you need to make an accurate shot, or a shot at a distance, the sight can instantly be switched to a fourfold zoom mode.
Features new sight:
- instantaneous multiplicity switching
- quick-release steel clamps with locking
- mesh backlight
- large removal of the exit pupil
- durable aluminum casing, tightness
Constructive difference from the known analogues is the internal alignment of the sight, the mechanism of which is completely hidden from adverse factors, such as dirt, rain and sand. Also, the sight is protected from accidental opening with additional clips.
The company "Shvabe - Defense and Protection" is part of the holding "Shvabe". The enterprise has been producing hunting sights for both day and night hunting for many years. Several generations of our hunters choose the company's products for its reliability and accuracy.
Holding "Shvabe"
unites the main domestic enterprises of the optical-electronic industry. The holding includes 64 organizations, including research, production and production associations, design bureaus, state optical institutes and enterprises. It develops and manufactures high-tech optical-electronic systems and complexes for military and civil purposes, optical materials, medical equipment, energy-saving lighting equipment. Included in Rostec State Corporation.