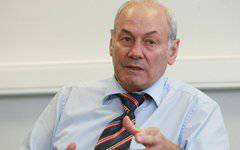 They also die people - just not physically, but spiritually
The Russian Institute for Strategic Studies, in conjunction with the Center for Actual Policy, prepared an analytical report in which he told his addressee, the authorities, about the new dangers that had not been revealed by it.
These are disloyal sociological services, scientific institutes, which also conduct their research, the results of which, however, work more likely to shatter Russian statehood than to strengthen it. This is due to the bias and bias of research, which in turn is explained by the ideological considerations of the leadership of these centers and their customers.
Accordingly, the authors of the report note that institutions and funds disloyal to the state should at least be brought under the law on non-profit organizations, obliging themselves to register as "foreign agents".
The list of objectionable offices, among others, included, for example, such prominent ones as the sociological service Levada Center, the New Economic School, the Carnegie Center and even the Institute of Sociology of the Russian Academy of Sciences. Their activities, the authors indicated in their report, ultimately provoking citizens to organize a new Maidan already in Russia.
The proposal of the expert community, specifically for our publication, was commented by the President of the Academy of Geopolitical Problems, geopolitics, Colonel-General of the Reserve Leonid Ivashov.
Nobody canceled geopolitical confrontation
- Of course, it is good that we are striving to protect our geopolitical interests, we are thinking about protecting our borders, air and land. This is really very important. But there is also the space of our high culture, spirituality, traditional values, and it is just not protected.
And I will even say more: it turned out that post-Soviet Russia literally opened up to the whole world, naively believing that good people would come to us now and help build a democratic state. But after all, no one has canceled the geopolitical confrontation. And so, as a result, the West used all the resources to undermine our statehood, to revise our value system.
The Russian Institute for Strategic Studies, judging by this report, clearly sees unconditional threats to our security. By the way, this was also discussed at the last 1 and 2 March meeting of the Sarov Scientific and Spiritual Center, where I attended. We agreed there that it is necessary to protect the spiritual space of Russia even more reliably than the physical borders of the state. But here, of course, we need to carefully monitor that civilian institutions are actively involved in the work so that there is no frank substitution, when instead of protecting our statehood and spirituality, structures would be created that protect only power. We all need a compromise and at the same time effectively working structure.
What is the result of all this, we see now on the example of Ukraine
Information wars should be treated as seriously as usual. You can not underestimate them. On them, people also die - just not physically, but spiritually. All low-end shows on our television and on stage can be viewed as planned information-military operations aimed at human consciousness.
Whichever channel you turn on today, you will immediately become a spectator of a real flow of some blasphemous revelations, attempts to revise ours.
stories
. You will be, if not directly, but gradually convincing that Russia is a hopeless country, that some underdeveloped people live in it, and so on.
Even a strong consciousness begins inevitably to be deformed by such a flow of information propaganda mud, and what can we say about young people who simply do not understand that Russia has its own universal way! And as a result of all this it turns out, we now see the example of Ukraine.