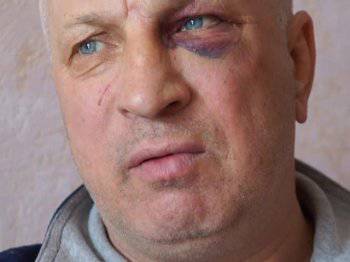 What kind of "democracy" and "European life" can threaten the Ukrainians, if the government really seizes the "Right Sector" or similar militants and nationalists, recently one of the Kiev bloggers learned from their own experience. In memory of communicating with extremists, he left scars and fear for his life.
March 5 Ukrainian journalist Sergiy Rulev was beaten up on Independence Square. Later, supporters of the new government said that it was either he beat himself or his friends beat him at his own request. In any case, he came to Maidan to work. And now hiding. Journalists of the Russia 24 TV channel found Sergei in one of the sleeping districts of Kiev to find out what really happened.
He is accused of collaborating with supporters of Yanukovych. But judging by the apartment, if there was cooperation, it was clearly not to his advantage. A small odnushka on the outskirts of Kiev, from which for several days Sergey has not gone a single step: heals his wounds. He shows fingers crushed by pliers, says that his chest hurts. "Here is the bloody T-shirt I was in," shows the blogger.
5 March, he, as usual, came to the Maidan, to take off on his amateur camera, what is happening in the square. Sergey is a "civil journalist" who collaborates with several publications, maintains his blog and uploads all videos to the Internet. Since the beginning of anti-government actions, it has been in the thick of things. He says his popularity and ruined. "One man says," I recognized you. You interviewed the "Berkut".
Immediately he gives the command to his comrades. They twisted me. Dragged into one of the tents. Immediately began to beat me, "- says the victim.
The conversation of the blogger with the "Berkut" residents of Maidan clearly did not like. Having learned Sergey, they dragged him into a tent. He remembers: a girl came to torture him. "Immediately kicked in the groin," he says. "And a fist to the head. She had a knife with her that constantly frightened me. After that, she began to threaten:" Now you will tell us everything. "And she began to tear my fingers with pliers, asking this question. I was accused of interviewing Berkut.
Sergey spent several hours in a tent, then in a burnt-out building of the House of Trade Unions. He says he was beaten all this time. Several times transferred from one building to another down the street.
"I started shouting, calling for help," the blogger says. "He asked me to be sent to the police. I fell to the ground, trying to get people's attention. The city center, Kiev, the war was over. I wanted to be sent to the police if I am a criminal. Several people in camouflage ran up, silenced me. Passers-by at that time were watching. " At some point, the militants of the Right Sector arrived. "Tall, beautiful, well-dressed," says the blogger. "Good shoes. Our internal service soldiers have no such shoes." Sergey recalls: they did not beat and did not threaten. On the contrary - they offered to cooperate.
"They brought me clothes, socks. They called an ambulance," says Sergey. "They suggested that I don't want to cooperate with them, to cover their activities. I wrote them, one might say, on blood, my blood remained on paper there:" Please turn me on in their newsletter announcements. "They:" And you do not want to be our freelance correspondent? "I say:" Well, this is a great journalistic success. "And I added: please include me in your list of freelance correspondents.
Now Sergey is constantly drinking painkillers and is going to leave the country. He does not hope to help the police and is even afraid to go there. On the Internet, he is accused of beating himself. "They accuse me of being beaten by my titushki," the blogger says. "That I am" pro-government. "Although I have never had anything to do with power. I am not a member of the Party of Regions.
Ukrainian TV channels
история
not interesting. "Are you, this is the discrediting of the Maidan, - explains Sergey. - In the same place, all are white and fluffy."