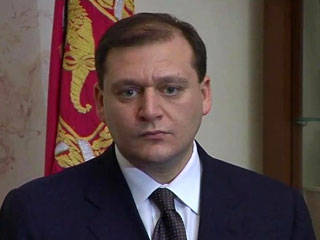 Mikhail Dobkin, former head of the Kharkiv Regional State Administration, lost his passport at the border control post at the Kharkiv airport. The Security Service of Ukraine opened a criminal case against the former governor.
"I think that maybe one of the ways out of the situation that they invented themselves, it was today a quick initiation of a criminal case. Please, if you have something to present, I am ready to respond. I have nothing to fear," said Mikhail Dobkin.
The former head of the Kharkiv region regarded the withdrawal of a Ukrainian passport as a violation of his rights. "I officially declare that I am not trying to leave the country anywhere. I am in Kharkiv," Dobkin emphasized.
An official warning was issued on behalf of the Security Service of Ukraine to Mikhail Dobkin about the inadmissibility of committing a crime under Article 109 of the Criminal Code of Ukraine ("Actions aimed at forcibly changing or overthrowing the constitutional order or seizing state power").
Criminal proceedings against Dobkin. The Central Investigation Department of the State Security Service of Ukraine began 27 February with regard to 2, part of the 110 article of the Criminal Code of Ukraine ("Infringement on the territorial integrity and inviolability of Ukraine, committed by a representative of the authorities").
Such a reaction of the Security Service of Ukraine followed Dobkin's public calls for a change in the territorial boundaries of Ukraine in violation of the procedure established by the Constitution.
Interior Minister Arsen Avakov, on his Facebook page, said that Mikhail Dobkin, in response to a request from a border guard officer to wait to "clarify something," dropped his passport. And then allegedly broke through the border control point at the international airport of Kharkov and disappeared in an unknown direction.
Mikhail Dobkin stressed that he was not going to hide anywhere.