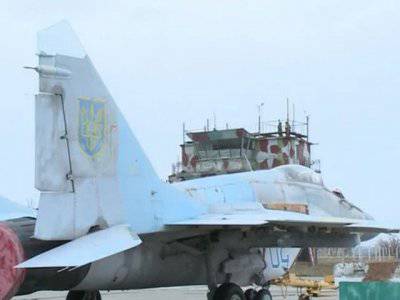 23 from 34 military units of Ukraine, located in the Crimea, went over to the side of the authorities of autonomy, according to the city council of Sevastopol. It is more than five and a half thousand troops, including the regiment of the internal troops, the Belbek air base and air defense units. In the Verkhovna Rada, according to some information, they are already ready to enter into negotiations on the empowerment of autonomy. But the leadership of the Crimea refuses, since it considers the Kiev authorities illegitimate and believes that the residents of the peninsula themselves should decide the status of autonomy in the upcoming March 30 referendum.
In the Crimean armed forces - replenishment. 204 airbase of the Ukrainian Air Force moved to the side of autonomy, say the local government. We are talking about about eight hundred soldiers. Another thing is that the technique, to put it mildly, is not in the best condition. This is already a question of the state of the Ukrainian army. So, at the Belbek airfield there are more than forty MiG-29 and four training aircraft L-39. But in good condition - only five cars.
On the tail of one of the fighters is visible a red star, left over from Soviet times, it was not even able to paint over it. The army of Ukraine is really in many ways and kept on the Soviet backlog. Now the airfield is under the control of self-defense detachments so that there is no looting.
Assess the situation in the Crimea flew delegation of the Public Chamber of Russia. Meetings were held with the city administration, as well as a conversation with students and teachers of the Sevastopol branch of Moscow State University. "The situation in Crimea is calm," says Sergey Markov, director of the Institute for Political Studies. "All Ukraine is burning, but not Crimea."
The university works as usual, classes were interrupted only in some schools of the city. However, when Ukraine began to seethe, the leadership of Moscow State University seriously thought about the possible evacuation of students and staff. "Moscow was worried about Sevastopol students," says Mikhail Sokolov, advisor to the rector of Moscow State University, director of the Sevastopol branch of the university. "Moscow State University was ready to transfer everyone to Moscow at the slightest danger. Nobody was going to throw students. But now we don't allow panic be".
In the near future, the Public Chamber is going to discuss the situation in Crimea in detail. This will happen in Moscow. A hotline has been opened, it is planned to create a special fund to help residents of the region.