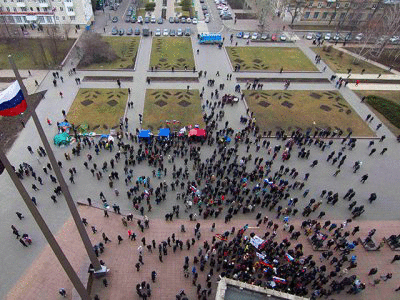 Donetsk Regional Council decided to hold a referendum on the status of the region. 98 deputies voted for this proposal, three more abstained and as many were against. After the vote, the council building was captured by activists with Russian flags, who offered to consider themselves the new government.
According to the document on the referendum, they decided to hold a popular vote to maintain "popular initiatives", reports the Ukrainian portal Korrespondent.net. Immediately after this decision was made, the building of the regional council was seized.
According to the portal "Comments", before the storm, the activists held a rally in front of him. After that, about two dozen people, judging by the photographs published on the portal, went into one of the halls of the building without any obstacles from the police.
According to Reuters, the demonstrators occupied the lower floor of the 11-storey building of the regional council. According to ITAR-TASS, activists seized two floors of the administrative building. According to NEWSru.ua, protesters with various Russian symbols are on duty around the perimeter of the building.
After the change of power in Kiev, Pavel Gubarev became the self-proclaimed governor of the Donetsk region. He sharply criticized the authorities for the decision to hold a referendum, because he believes that it is necessary "to recognize the legitimate authority of the Crimea" and in the political sense to move in the same direction. According to the portal 62.ua, the majority of activists with Russian flags are supporters of Gubarev.
Earlier, the authorities of Crimea refused to recognize the legitimacy of the new government of Arseniy Yatsenyuk. According to the Border Service of Ukraine, the Russian military are currently in the Crimea. According to British Foreign Secretary William Hague, being in Kiev, the peninsula is almost completely illegally under the control of Russian troops. According to RBC-Ukraine, the Crimean authorities have already agreed with the Russian government on a tranche of six billion dollars. The new authorities in Kiev believe that the introduction of Russian troops in the Crimea is illegal.