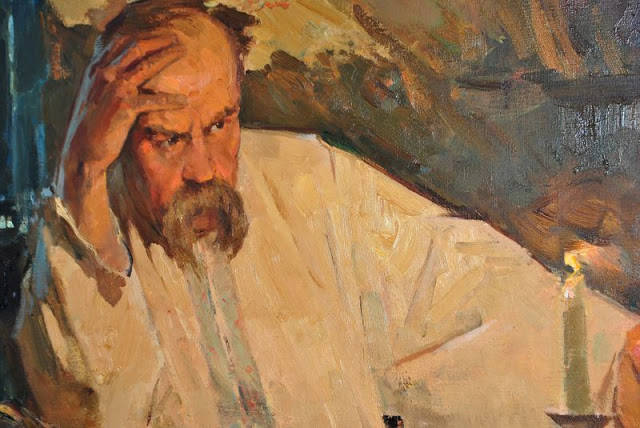 Thunder tram. Flickering through the window of the house, trees, shrubs colored in autumn.
"The next stop is Shevchenko," the driver announces. I'm surprised to look out the window.
The long Stavropol, along which I am going, crosses Shevchenko Street, and on the left a monument of rather impressive size appears - a bust of black stone.
The great kobzar seemed to be thinking about something, slightly bowing his head.
Russia. And suddenly a monument to the Ukrainian national poet. But this is not so much surprise as it pleases.
And at once for some reason long forgotten lines come up:
Reve da Stogne Dnipro wide
Serdyty Vyryr Verby Gne
And the melody of these immortal words sounds in my heart.
And she remembered his "Testament":
Yak die so pohovayte
On the Ukraine, sweet,
Among the broad stipi
Vyuitye grave.
Schaub to put me on the curtain
Above rica mighty,
To hear the bush
Old Dnipro under the cooler.
His love for his native land was inexhaustible and ineradicable. When I hear the word Ukraine, the name Shevchenko will certainly come to mind.
Ukraine, Russia, Belarus - a single country ... was.
And this "was" pain responds in the soul of every simple Ukrainian, Belarusian, Russian ...
After all, even ours
historical
Names: Great Russia, Little Russia, White Russia - they speak of a common language, culture, century-old unity.
How did it happen that one morning, waking up, we were horrified to learn that we now live in different states.
It is useless to ask who is to blame. Whether it is mediocrity, cowardice, powerlessness or the desire for power? Probably all together.
Human defects are invincible. And when those who are in power become their owners, a catastrophe will occur.
And the people?
And the people still "balakat" in our Krasnodar region on the mixed Ukrainian-Russian "move", still sings Ukrainian songs and not only in feasts.
When I myself sadly, diligently, I bring out the unforgettable, indestructible:
Nebs on the Neb, zironki sjyut,
Quiet on the sea chovin pleve.
In dovchina povnyu dope
And Kozak Chue, Serdenko me ...
Although in my foreseeable past there is no, like, Ukrainian roots.
Taras Grigorievich! Could you imagine that in the near future Russia and Ukraine will close the borders and not find a common language?
That in the government of fraternal Ukraine there are politicians who use
with all kinds of help and support from the United States and some overtly unfriendly countries, or rather, their governments, dreaming of power under their auspices, opposing any ties with Russia, including economic ones.
The great kobzar was redeemed from slavery, "from the fortress", Russian artist friends. I think that none of them could even come up with the idea of ​​nationality.
You should have seen, Taras Grigorievich, a confrontation in Kiev.
Surprise and bitterness. Causes all this in ordinary people.
As we all are tired of cheap, wild and crazy political fuss, the end of which is not visible.
We, the Great Russians and Little Russians!
What a pity that they do not hear us and do not heed the voice of reason.
They, rushing to power at any cost, at the cost of blood, too, of someone else's blood.
After all, power is the same drug, it is intoxicating, depriving sensations of reality, separating from the soil, that is, from the people. The habit of wealth, comfort and the fear of losing it become decisive in their behavior.
This is where cowardice comes from, and also lack of talent.
The great ones do not need vain external attributes, they are above satiety, wealth and power.
That was and remained the great kobzar. The pain of the people, its troubles and sorrows were its pain, troubles and sorrows.
This is all his poetry, his songs. It was he who became great, it is for this that his people love and remember, that is why he is immortal.
He had to endure a lot in life: slavery and liberation, soldiery and humiliation, but his proud spirit ascended above all troubles and misfortunes.
And he glorified freedom, he dreamed of her and bequeathed to her enslaved people.
The tram started moving. Silently sails past a beautiful monument of dark stone.
The pensive look of the great kobzar seems to accompany me ...
The whole city, like torches, is colored with autumn blazing maroon and scarlet trees and shrubs.
And the sky in the spring blue - blue. And in my heart everything sounds beautiful Ukrainian song:
I'm looking for nebo
What I ne ne Sokil, what I neu Letu,
Chomu mini, my God, you gave me wings,
I'm gonna go to the ground, Thai in nebo zlytav ...
The soul of the great kobzar is high and beautiful, and so is the great and beautiful people who gave the world such a great poet. And this is our hope.