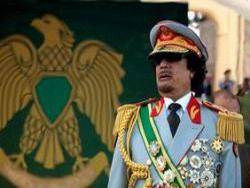 The Arab newspaper Asharq Al-Awsat reports that an exchange of fire took place at the residence of Muammar Gaddafi on April 1.
The residence is surrounded by the Bab el-Azizya barracks. In the barracks lives top leaders of the country with their families. At the end of last week, one of the top officials of the Gaddafi government, Foreign Minister Musa Kusa, fled to Britain. Musa, until recently, was the head of the Libyan intelligence.
The minister is placed in a secret apartment of British intelligence in the south-west of Britain. It is assumed that he merges the British critical information. The minister's family, however, remained in Bab el-Azizya. An attempt by the Kusa family and several other Libyan dignitaries to escape was over by an exchange of fire. The fugitives are taken into custody. This is the official version, confirmed by supporters of Gaddafi, who said that "some of the inhabitants of Bab al-Azizya tried to leave the territory without a permit and were stopped by force."
Asharq Al-Awsat, however, with reference to "own sources," argues that we are talking about an "officer putsch, which was immediately and mercilessly crushed."