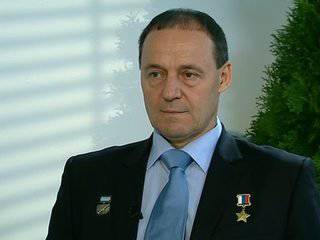 The speed of the latest Russian fighter-interceptor MiG-41, developed on the basis of the MiG-31, must exceed the Mach 4, test pilot Anatoly Kvochur said.
"Such a modernization was supposed to take place twenty years ago. However, this did not happen then, so now the requirements are rising. They consist of the (increase) interceptor speed up to Mach 4-4,3, "Kvochur said, RIA"
News
».
So he commented on the report of State Duma Deputy Alexander Tarnaev that a new MiG-41 fighter is being developed in Russia based on the heavy MiG-31 interceptor fighter, whose speed was Mach 2,8.
At a meeting of aerospace defense experts, Tarnaev announced that the Chief of the General Staff had signed a decree on the deep modernization of the Soviet interceptors MiG-31.
The MiG-31 fighter-interceptor was developed in the USSR in the first half of the 1970-s. The aircraft is capable of speeds up to 3 thousand km / h, and its combat radius is 720 km.
The aircraft is armed with a six-barreled 23 caliber mm with ammunition for 260 shots, and is also equipped with six suspension points for different types of air-to-air missiles. A group of four MiG-31, depending on the version, can control the airspace with a length along the front 900 – 1 thousand. 200 km. The upgraded MiG-31BM are capable of detecting targets at a distance of 320 km and hitting them, having approached 280 km.
The total number of MiG-31 of different versions in service with the Russian Air Force is about 190 units. The production of fighter-interceptors was discontinued in the 1994 year, but more recently the modernization of these aircraft to the MiG-31BM version began.