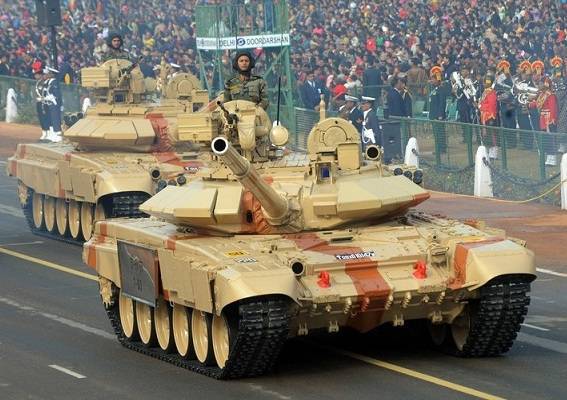 In India, another scandal erupted with Russian
tanks
T-90 So, on February 18, the Indian Audit Office CAG (Comptroller and Auditor General) presented a report to the parliament in which it reproached the government for deciding to continue the licensed construction of T-90S tanks.
On the basis of the documents demonstrated, it follows that the previously delivered tanks were not equipped with air conditioning or used technically unsuitable equipment for this region.
CAG noted that in addition to discomfort for the crew, the lack of air conditioning affected the "performance of the fire control system of the main battle tank and the rocket firing mechanisms of the main gun due to the prolonged exposure to high temperatures and dust."
Thus, there is a violation of the thermal sights of the production of the French company Thales, installed on the T-90C, which can not work normally in the conditions of the summer heat. According to the manufacturer, for the normal operation of the tank it is necessary to reduce the temperature inside by 10 degrees, after which the performance of the electronics will be improved.
Most of the T-90C tanks are deployed in the Rajasthan desert region, where the daily temperature in summer exceeds 55 degrees Celsius, rising to 70 degrees Celsius inside the tanks, which significantly reduces the efficiency of the electronics and crew of the tank.
The reason for the lack of air conditioners in the composition of the T-90 tanks is the desire to save on the localization of the production of equipment in India.
Currently, Russian specialists are providing technical assistance in the production of supplied tank sets and warranty service for the T-90C / CA of the Indian army. As of 2010, Uralvagonzavod delivered more than 600 T-90С / СА tanks to India, of which about 400 tank assemblies were assembled at the HVF factory. In total, India intends to bring the number of T-2020 in troops to 90 units by 2000.