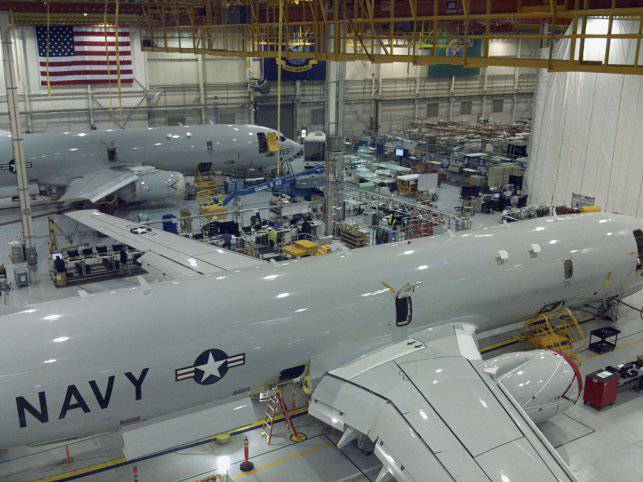 The US Navy has signed a contract with Boeing for the deployment of full-scale mass production of the P-8A Poseidon marine multi-purpose aircraft, February reports janes.com 25.
The first production batch includes 16 aircraft, contracts for the production of four small-scale batches (six, seven, 11 and 13 aircraft, respectively) were previously signed. Deliveries began in the 2012 year - two for operational tests and five for the Navy. In 2013, the company began producing and supplying eight aircraft for the US Navy and three for the Indian Navy (the Indian version is P-8I Neptune and has a slightly different configuration). In 2019, Boeing plans to reach the maximum rate of release - 16 aircraft.
The US Navy plans to buy 117 aircraft of this type, India has signed a contract for eight cars with an option for four, Australia also approved the purchase of the same number of aircraft. It is reported that the company is negotiating with another five countries, presumably these are Canada, Italy, Norway, Saudi Arabia and the United Kingdom.
The crew of the 9 is a man (including five operators), the flight radius is more than 2000 km with 4 hour loitering at this range. The aircraft was created on the basis of a commercial airliner Boeing 737-800 (wings from the version 737-900). Poseidons are built by a group headed by Boeing, which also includes the subcontractors CFM International, GE Aviation, Northrop Grumman, Raytheon and Spirit AeroSystems.