24 February 2014, US Secretary of Defense Chuck Hagel announced plans to reduce the US Army, which in terms of numbers will reach its lowest level since the end of World War II. This is due to the huge costs that the US incurred during the two wars in Iraq and Afghanistan. It is reported by the news agency "BBC".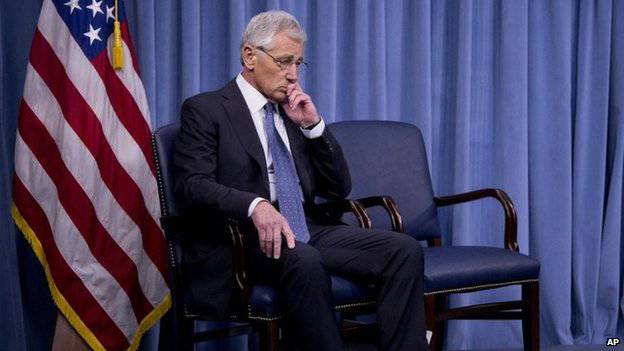 US Secretary of Defense Chuck Hagel (c) Associated Press
Thus, the number of ground forces is planned to be reduced from the current 520 thousand people to 440-450 thousand people. It is noted that by the end of 2014, the number will be reduced to 490 by thousands of people as a result of the withdrawal of troops from Afghanistan. It is also planned to write off reconnaissance aircraft U-2 and attack aircraft A-10 Thunderbolt II. However, these plans still have to approve the Congress.
According to Hagel, the administration also recommended the closure of several military bases in the US by 2017.
It is dismissed that in the period after World War II, the maximum number of US ground forces reached 1,6 million people during the Korean and Vietnamese wars. In 2000, it reached 482 thousand people, and the maximum value in the XXI century was noted in 2010 year, when the number was 566 thousand people.
The largest military budgets of the world in 2013, billion dollars. (C) BBC