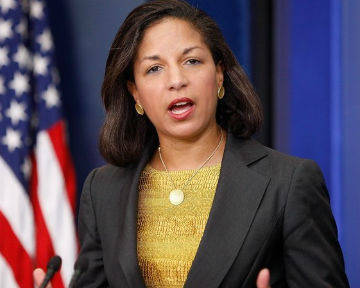 US National Security Advisor Susan Rice said that Russia's military intervention in Ukraine's affairs would be a "serious mistake."
"The split is not in the interests of either Ukraine, Russia, or the EU or the United States. It is also not in the interests of either of these parties to see the return of violence and the escalation of the situation," she said.
"There is no internal contradiction between Ukraine, which has long
historical
and cultural ties with Russia, and modern Ukraine, which seeks to integrate more closely with Europe, "added Rice, quoted by Radio Liberty.
Earlier, US Ambassador to Ukraine Jeffrey Payette said that the US government does not consider the events in the country a coup d'état. "We reject any hints that what is happening here is a coup, and that the legitimacy of what is happening here is questionable because of some foreign support," the ambassador said.
British Foreign Secretary William Hague, as reported, called on the Russian leadership to react with restraint to what is happening in the neighboring country. He also noted that the military solution of the Ukrainian question "is not in the interests of the people in Russia." Haig stated the need to urgently correct the economic situation in Ukraine and the inadmissibility of obstacles on the part of Russia when opening a free trade zone between Ukraine and the EU.