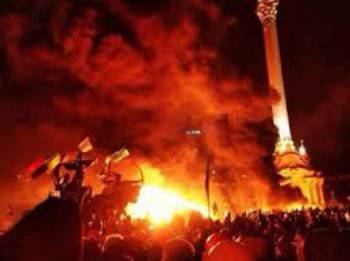 If a very long time not to punish crimes, then there is chaos. If violence is not suppressed, then it will become more and more - preventive social restrictions will fall. If we continue to ignore this, repeatedly declaring "amnesty" to the bespredelschik, corpses will inevitably appear.
And it happened. On black Tuesday, the bestial crowd, accustomed to impunity of violence and hiding behind the anonymity of the masks, began to kill. We started with a 57-year-old engineer who tried to protect computers and servers from being destroyed by vandals, and then continued on to police officers.
All this was accompanied by looting, robbery, attacks on bystanders and invasions of private apartments of residents of Kiev. This is the face of "peaceful protests" now.
Moreover, I initially, a few days ago, wrote that the "peaceful offensive" has no other goals than provocation and violence. It was obvious. And indeed, people don't come to peace protests in body armor and helmets, don't bring baseball bats, pistols and Molotov cocktails. Violence was not spontaneous, it was deliberately planned and implemented.
Customers of this action, who are located outside Ukraine (and to which the opposition leaders regularly fly for consultations), definitely need a civil war in Ukraine, preferably before the end of the Sochi Olympics, at any cost.
It is obvious to any sensible person in Ukraine and abroad that the Libyan and Syrian scenario unfolds consistently, step by step, in Ukraine. First "peaceful protests", then "sacred victims", then mass riots, and at the end there will be civil war and the dominance of warlords.
As a result, instead of one "Vegetable", we will get dozens and hundreds of gangs who create arbitrariness (which can be seen from today's scenes of public torture of the Volyn governor.
And the inaction, the "tolstovstvo" and the indecisiveness of the authorities do not interfere in any way with the unfolding of this scenario. On the contrary, it was yesterday's response to the killings of the security forces, when the leadership of the SBU decided to conduct an anti-terrorist operation and cleaned up most of the territory seized by the militants, turned out to be a completely unexpected and extremely unpleasant surprise for them.
They are so accustomed to attacking the employees of the "Berkut" and VV who occupy the passive defense with impunity, that when they finally gave "feedback", the maydanschiki ran right up to the very scene, where they began in panic to burn their own camp on the barricades, if only "Berkut" I got to them and did not call for responsibility for the murders of his comrades and random Kiev residents.
For almost three months, the Maidanschik was pumped up with the awareness of their chosenness. Every day, from the morning to yesterday, they were told from the stage that they were the chosen ones, "Europeans", carriers of civilization (ord, Turkish 1992 sweaters of the release year), carriers of the highest values ​​(it is not clear what) and so on. Doesn't it remind anyone? There, in black dermantin jackets and with a swastika on the sleeves ...
And, yes, still "God is with them"! And I thought that "God is with the Russians." They are Russians? I doubt it.
On the other hand, the pump said that everyone who does not agree with the Maidan is "titushki", "Asian hordes", "illiterate slaves" (despite the fact that Kharkov, for example, is the intellectual capital of Ukraine). That is, the dehumanization of opponents was carried out. Maydanschiki inspired that all dissenters are not worthy to be considered as people, to be citizens of Ukraine, to have rights and to live in general (in general and in Ukraine, in particular). Just as Jews, Gypsies and Slavs did not have the right to live in the Third Reich.
At the same time, the individuals who threw Molotov cocktails into service people performing their duties of law enforcement were stubbornly called "heroes" and "peaceful protesters." As long as they themselves did not believe it.
Let's call things by their own names: an ideology whose supporters believe that they are "chosen" have special rights and superior to other people is called Nazism. And the people who profess this ideology are called Nazis or neo-Nazis.
As a result - we got a crowd of washed zombies who are ready to kill dissenters without hesitation. For whom murder is not something transcendent, but routine, if not "an act of heroism."
And yesterday, this brainwashing gave its results: over twenty corpses and several hundred wounded of varying degrees of severity.
In this case, the leaders of the Maidan Turchinov "got a scratch from a sniper", and Parubiy "heart attack". That is, as before, the principle "the lords are fighting, and at the lackeys the forelocks crack".
When the "Golden Eagle" gave the neo-Nazis a fitting rebuff, they ran to the very scene where a collective hysterics happened to them. Opposition leaders in turn carried complete nonsense. Tyagnibok screaming that
"Snipers were throwing objects from roofs".
Yes, this is typical behavior for snipers. Yatsenyuk babbled something about
"You can not beat the peaceful protesters."
Lutsenko cursed and shouted
"I have never had it before"
(although photos, as with his "oh-oh-oh, as it was," go on the Internet in full swing).
The leaders were laconic as ever, and after the assurances that "we are with the Maidan forever," we quickly disappeared - who was "on negotiations with Yanukovych," who was stupid about their homes, packing their bags.
On the stage of the Maidan remained worn out leading and several Catholic priests.
The presenter, with pants full of luti, frankly squealed
"Golden eagle, animals, what are you doing, you bastards, go over to our side, you bastards!"
It looked extremely disgusting. When "a sniper got into Turchinov" (if a sniper really hit him, today there would have been less than one pastor), the leader demanded that a human shield from captured Berkutovs would cover him. Let us give a moral assessment to such actions, I have already given for myself. Later it turned out that Turchinov was slightly hurt by a splinter, but those who were wiping it did not bother.
After each speech, the presenter retired with the priests, after which their voices became more and more drunk, while they themselves were braver. After one of the sessions of water therapy, he even stated that it already seemed to him that
"On Independence is not 50, and not 75 thousands (in reality there were 3-4 thousands), but 25 of millions of Ukrainians"!
Even later, statements about
"Billions of Ukrainians who rush to our aid".
Separately pleased with the advice "
walk from Zhytomyr by forests because the roads are blocked ".
A child of asphalt and a personal car does not imagine what it is to wade in the winter through the snow through the forest for a hundred kilometers.
Then frankly bukhie priests sang "
God is with us, submit to us nations. "
and "
Enter us, master us. "
. I do not know what these satanic mantras are, but it did not seem like a Christian sermon. In addition, interspersed with calls to "wet the animals." The only sober personage on the stage was a Catholic nun with a Canadian accent, who periodically beat her ears with raspy decibels of her voice.
Then there was a moment that filled me with anxiety and pride at the same time. A young lieutenant "Berkut" was brought to the scene, who alone came to rescue his wounded subordinate.
At this time, the subordinate lay with a broken eye in the "medical" tent, where he was not given first aid and refused to call an ambulance.
(The Russian First Channel showed this video, and it was marked like this - the shooting of Bogdan Kutepov. This means that the journalist filmed a fighter dying and didn't call an ambulance either ... - Ed.).
A dozen smashed drunken and aggressive bastards from the scene tried to force this officer to declare that he had gone over to the side of the Maidan. In response, he said only "
I came for my soldier. "
After which he was taken from the scene.
These are the people you need to submit to the Hero of Ukraine award. The propaganda of the Maidan is trying to expose the situation in such a way that there is a "Maidan against Yanukovych", and everyone who is against the Maidan is automatically for Yanukovych. This is a blatant lie!
Independence gangsters try to set themselves up as "warriors of light" fighting against tyranny, but in reality it turns out that they are murderers, gangsters and outlaws. German Nazis if anyone remembers
history
They also tried to hide their horrible crimes behind beautiful slogans about the "welfare of the Nation." But - "
by their deeds you will know them. "
Today's confrontation is taking place along the line of "law against neo-Nazi outlaws". And Yanukovosch does not help the law enforcement agencies to bring order, but only hinders with his cowardice and indecision, constant babble about "negotiations" and "peace settlement".
What could be the negotiations with murderers, thugs, terrorists and marauders?
And the act of the young lieutenant once again convinced me that the only right side to date, which is keeping the country from falling into the abyss of civil war and lawlessness, is "Berkut" and other power structures.