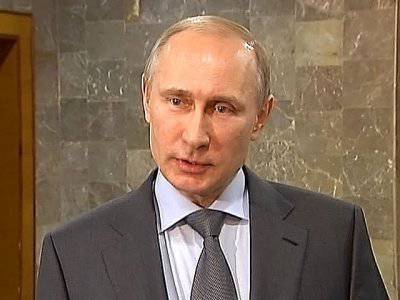 "It's a pity that the judges didn't notice it in time," said Russian President Vladimir Putin, answering a question about the shifted goal at a hockey match between Russia and the United States.
Putin spoke about this hockey meeting after a meeting of the State Council Presidium in Cherepovets, Vologda Oblast, ITAR-TASS reported. The meeting discussed family policy in Russia.
In the Russia-USA hockey confrontation, the third goal scored by the Russians was not counted due to a goal shift. He didn't reveal the strongest in 2: 2 and an extra 5-minute period. The fate of the match was decided in the shootout series, where the American athletes were more accurate.
Russian 18 hockey players in February will meet with the national team of Norway. The start of the fight in 16 hours 30 minutes Moscow time. The TV channel "Russia 1" and the site Vesti.Ru will broadcast this match.
Journalists asked Putin, and does not mean whether his departure from Sochi, that he had lost interest in the Olympics.
"Of course not," said the president of Russia. "My main task was to implement this project. And now this project has been implemented. I had the task of organizing a holiday for our people. I think this is also generally possible. This holiday situation it captures, absorbs, but needs to work. "
Vladimir Putin hopes, like most Russians, to continue to watch the Olympics on TV.
Meanwhile, the victory of bobsled players Alexander Zubkov and Alexei Voevoda in the competition of twos led the Russian Olympic team to second place in the team medal standings of the Sochi Games.
Russians have 17 medals. Of these, 5 gold, 7 silver and 5 bronze medals. In first place are Olympians from Germany - 7 gold medals, 3 silver awards and 2 bronze. The third place in the unofficial team event is Holland. The athletes from the Netherlands 5 gold and silver medals, in addition, they 7 times climbed to the third step of the podium at the awards ceremony, which is held daily in Sochi at 20 hours 14 minutes Moscow time.