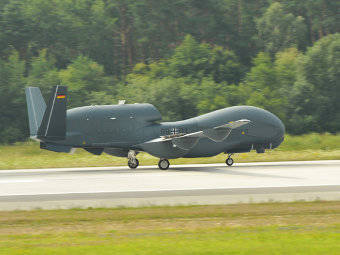 The scandal in Germany over the unmanned aerial vehicle (UAV) Euro Hawk (Euro Hawk) is still not over. A number of local publications reported this at the Singapore Airshow-2014 air show.
According to the information published at the salon, there is currently an alternative solution that will require additional allocations in the amount of 200 million euros (274 million dollars). Also, the military can return to the original, previously rejected, development plan for the program.
The head of the Bundeswehr General Staff, Walker Wicker, told one of the defense committees that testing four alternative UAVs for the Euro Hawk program would not only be delayed, but would also require the allocation of additional Euro 200 million. The initial established program budget was 613 million euros. In turn, this means, according to Vicker, that the resumption of work under the original plan cannot be excluded.
The scandal associated with the program "Euro Hawk", broke out in May, when it became clear that the UAVs will not be able to be in the airspace of Germany, because they are not equipped with an onboard warning system of air collisions with other aircraft. By that time, about 500 million euros had already been spent on the program.
As a result, in May 2013, German Defense Minister Thomas de Mezieres suspended the program. However, the problems associated with it arose already during the period when the new head of the defense department of the country, Ursula von der Leyen, was in power.
Currently, the cost of the Euro Hawk UAV program is about 600 million euros (822 million dollars). At the moment, it is unclear whether a solution could be found in the form of purchasing one of the four alternative UAV options, since they are considered too expensive.