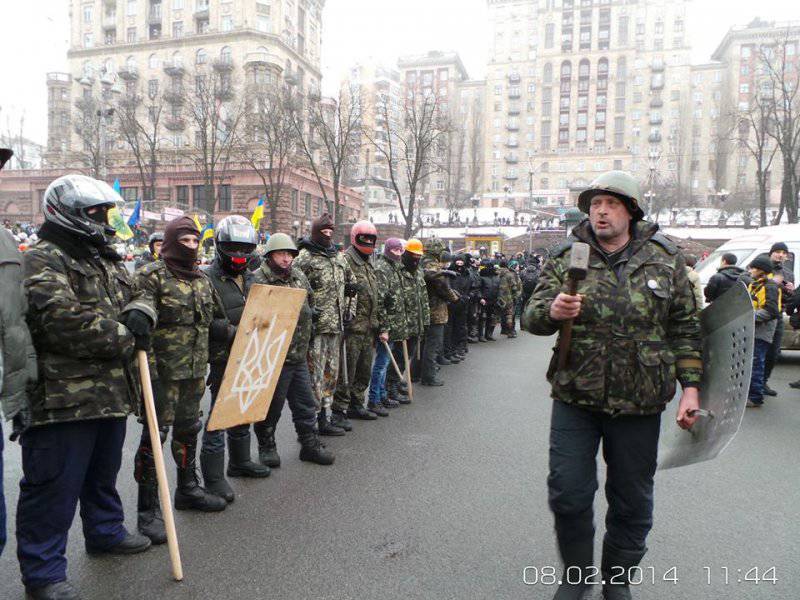 In Kiev, they told me such an anecdote: "When will Ukraine enter Europe? - After Turkey. - And when will Turkey enter? "Never." Europeans are not in a hurry to include Ukraine into the European Union; they do not want to clash with Russia. But the US is trying to radicalize the situation. By dragging Ukraine into Europe, they deliberately ruin the EU as their direct competitor, and Ms. Nuland's obscene language against Brussels is clear evidence of that.
In Kiev, no non-euro maidan gathered - this is a thoroughly American Maidan directed against the geostrategic interests of Russia.
The United States wants to bring to power a puppet figure in the person of Yatsenyuk, which will give the green light to NATO bases and missile defense elements in the "Square" territory. Of course, while expelling the Russian fleet from the Crimea. But in a democratic Ukraine, this is impossible to achieve. In a democracy, the majority one way or another will vote for Yanukovych. From this, the role of Freedom, Trident, Right Sector, etc. becomes clear. The USA deliberately builds neo-Nazi order in Ukraine. It will be pro-American, pro-liberal, covered with a well-groomed Yatsenyuk, but still neo-Nazism. Under the pretext of a state of emergency, he will solve a number of problems in an advantageous manner for Washington.
Yes, this development leads to a civil war. But this does not confuse the Americans, just as they were not confused by the wars in Libya, Syria, Iraq, Egypt ... Ukraine was sentenced. Of course, the neo-Nazi dictatorship will lead to the national liberation struggle in the Crimea and in the east of Ukraine. In Kiev, they will decide to fight the "rebellious" regions, they will arrange a genocide of the Russian population there. Everything is possible - the introduction of troops into uncontrolled areas, the bombing of Simferopol ...
And then Russia will be forced to wake up and respond as it responded to the bombing of Tskhinval and the invasion of Georgian troops in South Ossetia in 2008. But this time our intervention may result in an armed conflict with America. In the bloody mess will die hundreds of thousands of people, but this is the logic
stories
. Russia cannot lose the Crimea and East of Ukraine - having lost them, it will collapse itself.
We are reaping the benefits of the fact that for a long time Russia had no strategy in Ukraine. Our government has done nothing to grow pro-Russian politicians there. Strategic decisions were replaced by gas and credit trading. And today in Kiev, we simply have no one to bet on.