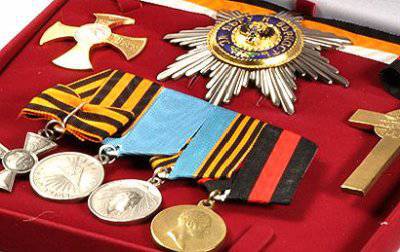 If I hurt someone's patriotic or there are some other feelings, I'm sorry. Honestly, I did not want to offend anyone, but just wanted to describe my feelings about the award system in modern Russia. I, as an officer, are offended at the way they scoff at our award system. This is described in more detail in another article that was published on this portal a year earlier. It was called "Unknown Hero of Russia - who are you?", Here is the link, here you can read more:
http://topwar.ru/11696-ne-izvestnyy-geroy-rossii-kto-ty.html
In modern Russia, many orders and medals have lost their value. They are handed out right and left. Straight by handfuls, tossing people from the stands. I will not give examples, they are in the article I mentioned earlier. And now I will describe two cases about which I would like to hear your opinion.
The first case. He is still on everyone's lips. Yes, you guessed correctly - this is the case of awarding the victims of the shooting at school. Here is a direct question: why? What was awarded?
Truly, Russia is a country where you can get an ORDER for criminal negligence! I, of course, sympathize with the families of the victims, I sympathize. But rewarding the police almost for negligence can not. What did they do selfless, how did they show themselves? We arrived at the call and began to enter the building when they opened fire on them. WHERE ARE ARMORED? Well, with the police still understandable stretch is permissible. But then - in general a ridiculous case ... Why did the teachers award? What he distinguished himself with what he showed?
The second case. He had already forgotten. When an officer died during a training throwing grenades. There, too, security rules were grossly violated. As an officer, I do not understand why the Hero of Russia was given to the deceased. There it is necessary to remove from the post, and the command of the unit should be planted. But…
As a result, the conclusion: "SERVICE, DOOP, GET PASSAGES!"
Waiting for comments. Thanks for attention.