30 January 2014 of the year in Brest, France, hosted the official transfer of the Moroccan navy to the frigate of the FREMM Mohammed VI type built by the French shipbuilding association DCNS (the crew number "701" wore the French tail number D 601). This frigate became the largest combat unit of the Moroccan Navy. This is the first FREMM frigate built for export, and the second ship of this type built by the French after the frigate D 650 Aquitaine, handed over to the DCNS French Navy in November 2012 of the year. The ceremony of the transfer of the frigate Mohammed VI (named after the reigning king of Morocco) in Brest was attended by the Prince of Morocco Moulay Rashid El-Alaoui (brother of King Mohammed VI), French Defense Minister Jean-Yves Le Drian and DCNS head Patrick Boissier.
Morocco ordered one FREMM frigate in the ASM variant under contract with DCNS from October 22 2007 of the year worth € 470 million. The frigate Mohammed VI was laid in the DCNS arsenal at Lorian 12 December 2008 of the year, launched the 14 September September 2011 of the year, and began factory running tests of the 17 April 2013 year. In general, the construction of the frigate was about a year behind the contract schedule.
Of the frigates of the FREMM type being built in the arsenal of Loriana for the French Navy, the second French ship D 651 Normandie began testing in October 2013, and is scheduled for delivery in 2014. The third French ship D 652 Provence was launched on September 18, 2013 and is scheduled for delivery in May 2015. The Loriana Arsenal is also building the next two frigates for the French Navy (D 653 Languedoc and D 654 Auvergne), which are scheduled to be commissioned in 2016, and in December 2013 held the laying ceremony of the sixth frigate D 655 Alsace. According to the plans of the French Ministry of Defense announced in 2013, the program for the construction of frigates of the type FREMM for the French
fleet
was reduced from 11 to eight units (six ASM anti-submarine units and two FREDA air defense versions - the last in the series, D 656 Bretagne and D 657 Lorraine). The decision on the possibility of building three more FREMM frigates in the ASM version for the French fleet should be made by the French government no earlier than 2016.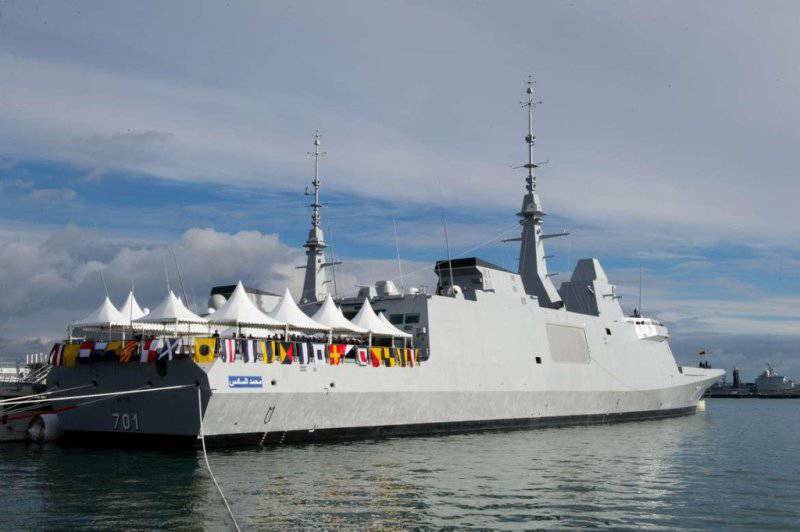 Built for the Moroccan Navy, the FREMM Mohammed VI type frigate during the handover ceremony. Brest, 30.01.2014 (c) www.militaryphotos.net