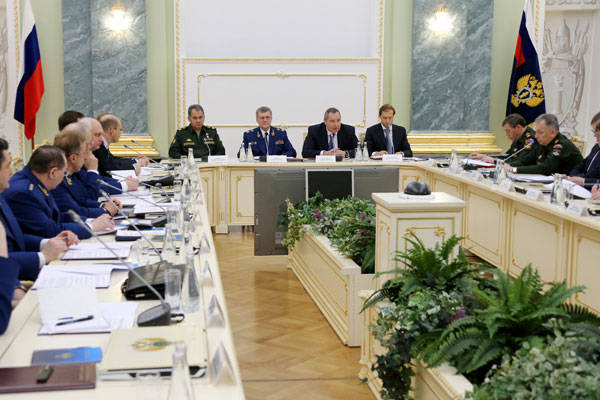 Yesterday, Prosecutor General Yuri Chaika proposed to return to the Ministry of Industry and Trade control over the implementation of federal target programs in the defense industry complex. He called unjustified practice, when this most important function falls on the subordinate enterprises and commercial organizations.
"Over the last 3 of the year, enormous state funds have been spent on the development and implementation of advanced technologies and the development of the scientific and intellectual potential of only the aircraft and shipbuilding industries. However, we don't see any results from this work. There is no implementation of scientific developments in practice," the Prosecutor General said today. on the board, which his department, at the initiative of the military, held together with the Ministry of Defense and the Ministry of Industry and Trade. The conversation there was devoted to the state of law in the defense industry.
In response to the proposal of Yuri Chaika, the Minister of Industry and Trade Denis Manturov put forward his initiatives - to transfer the expertise of defense projects to the regional level and streamline inspections of defense companies. "Over the past year and a half, 142 control agencies conducted executors of the state defense order 35 of control bodies conducted over 1200 checks. Different departments check the same legal norms as a rule. Subject areas are often mixed," the minister noted. In his opinion, it is necessary to streamline not only the subject and timing of inspections, clearly define what is being checked and by whom. And he proposes to make checks themselves joint and complex.
In the meantime, what the prosecutors at defense enterprises see is not encouraging. According to Yuri Chaika, contracts do not stand there, dubious organizations are involved as co-contractors. There are quite a few facts of overstatement of contractual prices, but it is possible to talk about embezzlement of budget funds in the defense-industrial complex for a very long time. Chaika said that last year, after examining cases in aircraft building and shipbuilding corporations, prosecutors filed criminal cases with 48. Another 43 material is in the pre-investigation stage.
At the same time, according to Chaika, the Ministry of Defense needs to improve the system of military acceptance. The head of the defense department agrees. At the joint board, Shoigu said that last year more than 14 positions of military representatives were reinstated "in our main areas of activity." The minister recalled that by 2020, Russia should actually have a new army, and 20 trillions of rubles were allocated for its re-equipment. In order to use the new arsenal with maximum efficiency, the Ministry of Defense switches to full life cycle contracts. Enterprises will have to accompany their products from the moment of its design and mass production to delivery to the troops and disposal. To this end, the military are already transferring the 99 defense industry of their specialized enterprises, reserving only routine maintenance and repair of weapons and equipment.