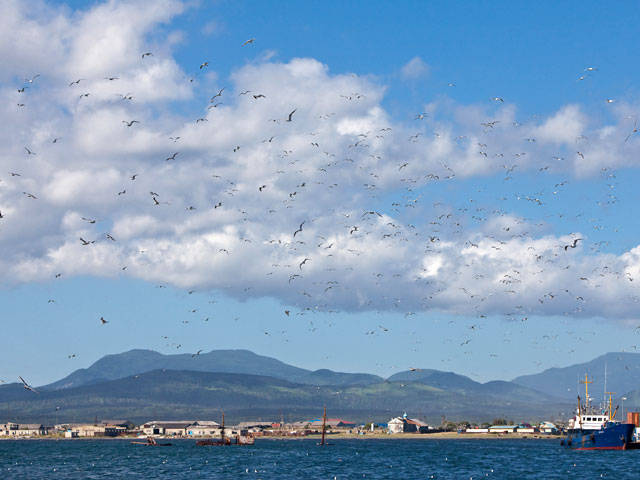 The Day of Mourning was announced on January 29 in Yuzhno-Kurilsk on Kunashir Island in connection with the death of the border guards who drowned there a few days ago. According to ITAR-TASS, the head of the municipality Vasily Solomko, in all localities of the region will be lowered the national flags of the Russian Federation, the Sakhalin region and the municipal entity "South Kuril urban district".
In the evening of January 24, ten border guards went to sea in a rubber boat to moor to the border ship that people were supposed to land on. Because of the strong seas of the sea, the boat overturned a few hundred meters from the coast, people could not swim out. The bodies of four dead were found, six more people are still missing.
"Today the funeral of the two dead will take place, tomorrow the body of the third border guard will be interred," said Solomko. "All the guys are our countrymen, we knew them well and mourn with our relatives." According to the head of Yuzhno-Kurilsk, all enterprises in the region are recommended to cancel entertainment events on the day of mourning. "People are sympathetic to such a request," said Solomko. "For our island, this has become a common tragedy."
The body of the fourth dead border guard will be taken to Sakhalin by relatives, the administration of Yuzhno-Kurilsk said. "Today, searches are conducted on the water, in the Yuzhno-Kurilskaya Bay, from five ships," said the press officer of the Sakhalin Border Directorate of the Federal Security Service of the Russian Federation Alexei Melnikov. "There are two helicopters in the air, people are inspecting the coastal line near 20. Searches are conducted and on the coasts of the neighboring islands - Iturup and Shikotan ".