The book of memoirs of seventy-year-old Robert Gates "Debt" was published. In his memoirs, the former US Secretary of Defense is not shy about expressions and gives vent to feelings. Congress, for example, he criticizes for incompetence and propaganda, senators calls "stupid" and "hypocritical" egoists. Members of the Foreign Affairs Committee of the House of Representatives, in his opinion, are nasty and stupid rude. Vice-President Joe Biden, the ex-minister fiercely hates and considers him to be a "talker", who alone makes mistakes. The dislike of Gates to the people who run the United States runs like a thread through the entire book.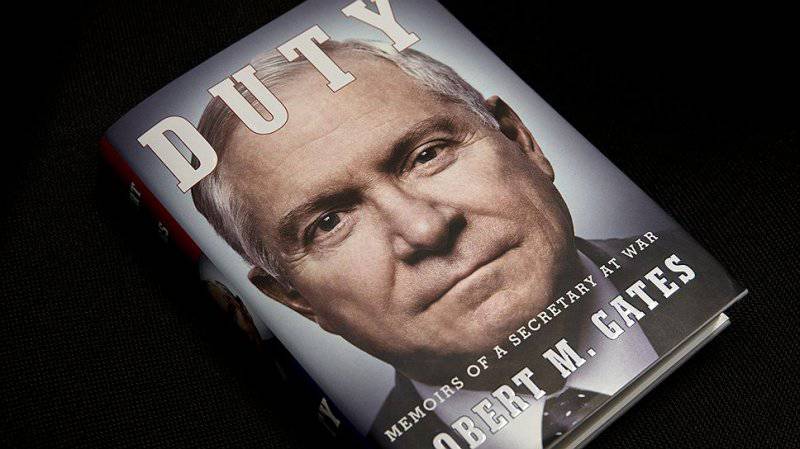 Greg Jaffe published a review of this book in the Opinions section of the newspaper.
Washington Post
. As a war correspondent, Jaffe has covered Gates for nearly five years. The journalist and writer reminds readers that not anyone, namely Robert M. Gates, in December 2010 of the year, speaking to soldiers in Afghanistan, showed unusual military feelings.
The soldiers, spattered with mud, were ordered to stop work, and the head of the Pentagon spoke in front of them - with neatly arranged gray hair, in a shirt with a starched collar, in general, he seemed to have flown in from another planet.
"I feel personally responsible for each and every one of you," Gates said suddenly. - I feel your sacrifices, sufferings and losses more than you imagine. I just want to thank you and tell you how much I love you. "
It is impossible to imagine that former US defense ministers, the journalist writes, for example, Donald Rumsfeld, Dick Cheney or Robert McNamara, have ever told their military that they love them.
However, in the White House, the State Department and the Pentagon, Gates has always held back personal opinion. The uncertainty of his opinion was the source of his power: he attacked opponents at the last moment and mediated the deal, as a rule, on the conditions that were most acceptable to him. Unlike his predecessors, he had a reputation as a man who coolly and ruthlessly makes his subordinates answer for their faults.
R. Gates left Washington in 2011, having a reputation as a calm and sensible member of the foreign policy establishment. He served under eight presidents; they were equally admired by both Republicans and Democrats. However, now that the next time Gates visits the capital, it can be received coolly. "Debt" is the second book of memoirs of the ex-minister, reminds the journalist, and this time he cuts the truth of the womb.
The congress got from the ex-minister for the deadlock of situations and propaganda. Senators Gates listened as "with growing indignation." These people got the unflattering epithets "hypocritical" and "stupid." Members of the Foreign Affairs Committee of the House of Representatives, according to Gates, are "rude, disgusting and stupid."
Those who hate Vice President Joe Biden will be delighted with his book description: in Gates' view, the Vice President is a loud talker obsessed with politics. But what is this politician? Gates writes: "I think he was wrong on almost all issues of foreign policy and national security over the past four decades." And what about President Obama? It turns out that it was the vice-president who poisoned Obama's relationship with his generals: "I think Biden subjected Obama to Chinese water torture every day, saying," The military cannot be trusted. "
Gates expected more from Obama: "I myself, our commanders and our troops expected more commitment and more passion ..." He compares Obama with Bush - and not in favor of the first. Bush, according to Gates, "did not think long about Iraq," including about the invasion.
The anger of the ex-minister at Obama, Congress, and even some of the Pentagon officials seems to have sprung from his conviction that all these people did not correspond to the feeling that Gates himself felt about the mission in Afghanistan. After all, more 3800 soldiers and marines died during Gates in Iraq and Afghanistan. These losses are small compared with the number of deaths in the civil war, World War II or in Vietnam, the journalist said. But Gates was extremely difficult to move. As Minister of Defense, he gave most of his evenings writing letters of condolence to the families of the victims. He asked his staff to find photographs of each soldier and several newspaper clippings from his hometown to make the message more personal.
As for military operations, R. Gates says that he is "indescribably proud" of the efforts of the American military to curb chaos in Iraq, and believes that the American military efforts in Afghanistan are on the road to success.
And a few years ago, in an e-mail to a friend, Gates admitted: "People have no idea how much I can't tolerate this job" ...
In the blog
The Wall Street Journal
Dion Nissenbaum announced the top-10 "revelations" of the former US Secretary of Defense.
№1: contempt for Congress.
Mr. Gates expresses open contempt for Congress and the legislators. Most of the latter he calls on the pages of the book uncivilized, incompetent in carrying out basic constitutional duties (for example, in matters of appropriations), prone to manipulation, uneducated, hypocritical, selfish, vulnerable, seeking only re-election and putting their interests above the interests of the country.
No.2: contempt for Vice President Biden.
He describes Biden as a person who almost always was "not right" in matters of foreign policy and national security. In particular, Gates objects to Biden's limited strategy in Afghanistan and believes that it will lead to a quick Taliban parade in Kabul.
№3: suspicion in the White House.
Gates believes that the White House has too much control, which is why he was not at odds with Obama's inner circle. At one of the meetings in the Oval Office in 2011, Mr. Gates stated that he considered his resignation caused by petty tutelage, which turned into a kind of White House strategy.
No.4: friction with the National Security Council.
The interference of the National Security Service into the activities of the field and combatant generals didn't like Gates. Namely, this intervention has become commonplace with Obama.
#5: White House vs. Pentagon.
At one meeting, Mr. Gates challenged Joe Biden and Thomas Donilon, Obama's deputy national security adviser, while they were trying to give him orders on behalf of the president. Gates told them that "none of you are in the chain of command." The Minister of Defense explained that he expects to receive an order directly from the president.
№6: Gates as a peacemaker.
According to Gates, "Presidents are faced with difficult policy problems of other countries," and American foreign policy has become too militarized, the use of force is given to presidents very easily. "For too many people," Gates writes, "war has become a kind of video game or action movie: without blood, without pain, and without smell."
№7: the war in Iraq.
Mr. Gates believes that the minimal goals of the war have been achieved.
№8: war in Afghanistan.
Gates writes: "I think Obama and his advisers were furious because the Department of Defense ... intercepted a political process ..." He also calls Obama indecisive in the Afghan issue.
No.9: Obama's domestic policy.
Gates claims to have witnessed a conversation between Obama and Clinton, in which the president admitted that his negative attitude towards the military escalation in Iraq, expressed in 2007, was a political calculation. Mr. Gates called this exchange "remarkable."
№10: dislike of civil service.
Mr. Gates writes bluntly: "I didn't like to be Minister of Defense." He constantly had to hide his indignation and contempt.
So, we note in conclusion that an unpleasant picture of what constitutes America's ruling class, that is, the legislative and executive powers, is open to the Americans and to the whole world. In principle, nothing new and surprising. Stupid, hypocritical, rude and dark egoists, guided by "calculation" and thinking only about how to be "elected" for the next term, are the psychological portrait of the political elite of the United States.
Observed and translated by Oleg Chuvakin
- especially for topwar.ru