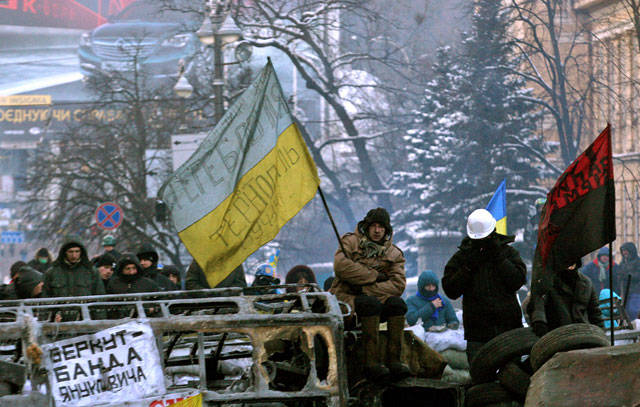 "Take the police special forces from the streets and respond to the discontent of the Ukrainian people" urged the President of Ukraine Viktor Yanukovych, Vice President of the United States Joe Biden. In particular, he warned the Ukrainian president "against taking tough measures."
"There's no time to lose" for a peaceful solution to the problem of "confrontation between the Ukrainian government and the protesters," Biden addressed his interlocutor during telephone conversations between Kiev and Washington. The talks were initiated by the American side, Interfax notes.
This, by the way, is the second in the last 7 days call Biden Yanukovych.
Viktor Yanukovych and the working group on resolving the political crisis held on January 27, 2014, a meeting with leaders of the opposition factions. Justice Minister Elena Lukash, summing up the negotiations, said that the head of "Batkivschiny" Arseniy Yatsenyuk refused the offer of the president to head the government of Ukraine.
In addition, it was decided to repeal the laws passed on January 16. These bills were the subject of numerous discussions and mass protests on the Grushevsky street in Kiev. The provisions of the laws that have lost their force will be worked out jointly by the government and the opposition. However, those laws that did not cause any comments, 28 January will be adopted again by Parliament, said Lukas.
On January 28, EU High Representative for Foreign Affairs and Security Policy Catherine Ashton will leave for Kiev covered with protests.
Catherine Ashton urged the Kiev opposition not to resort to violence. She is confident that the only way out of the conflict is political. "The parties need to urgently sit down at the negotiating table and build a true dialogue that will lead to consensus," she is sure.
The head of EU diplomacy is concerned about reports that the Ukrainian leadership is about to declare a state of emergency. She believes that this will serve as an impetus for the further escalation of the conflict.