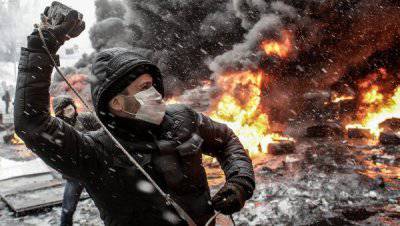 Someone comes to the Internet to chat on social networks, someone to download
wallpaper with girls
, and someone - to get the latest information. Today all the records in popularity among all informational directions are beaten by the Ukrainian theme. Talk about what is happening today in the Ukrainian territory, namely in the central part of its capital, is not silenced, as are the sounds of the crowd on Grushevskogo street, on the Maidan and European Square of Kiev.
In the meantime, all the attention of the world community has recently been riveted on the Kiev events, a lot of interesting things happened in other regions of Ukraine. In western Ukraine, something like a violent seizure of regional power took place. In particular, in Lviv, the head of the local administration with the memorable name Salo, representatives of the "opposition" were forced to sign a letter of resignation literally on the street. More than two thousand people took part in blocking the Lviv administration building, and Oleg Salo came out to them. Here, according to eyewitnesses, under threats to his life and health, he was forced to sign a paper about his own resignation. Oleg Salo did not appear in the administration during the day.
Then there was an episode that turned the tide. Oleg Salo, after thinking for a while, came back to his work, with which he "quit", saying that the decision to resign was made under pressure, and that he supported the President of Ukraine, who did not want to split the country. This move by Oleg Salo confused those who have already begun to share power in Lviv.
A similar situation occurred in another Ukrainian city of Rivne. Here, the protesters, whose slogans contradict each other (from the creation of some independent Ukrainian order on the territory of Ukraine to the country's accession to the European Union), occupied the building of the regional administration and continue to hold it by force.
There are reports from the Crimea that if the protesters reach a decision on the resignation of Viktor Yanukovych, Crimea will not participate in the early voting, using its autonomy.
Today, Ukrainian riots and provocations have a foreign imprint, they said not only in Russia, but also in the West. A number of British journalists published materials that events in Ukraine unfold according to the classic scenario of "exporting democracy", which was tested in Libya, Egypt and Syria.