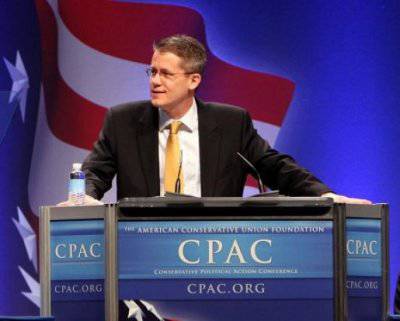 Mike Adams, a professor of criminology at the University of North Carolina, recently received a letter from a student in which he calls him "the greatest disgrace America has ever seen." As the American bloggers write, the professors were nevertheless fired, but as a result Professor Adams's very interesting answer quickly became a hit of the American Internet.
Dear Edward! I want to thank you for your letter and for telling me that I need to be dismissed from my position because I am "the greatest shame that America's higher education has seen." I also want to thank you for answering my question about how you came to this conclusion. Your answer, "because you think that you need one man and one woman to marry," turned out to be both very short and very useful. While I respect your right to read me the biggest shame that US higher education has seen, I still think you're wrong. In principle, I do not consider myself a shame for higher education even in North Carolina. Well, since you are a liberal with us, and you support the "choice" - provided that we discuss the dismemberment of children, and not the rejection of school vouchers - I would still like to present you with a choice. As a matter of fact, I will simply describe to you the tricks of ten professors, official student groups, and also guest lecturers — all from North Carolina — and you can decide for yourself what is the biggest shame that a higher education has seen.
1. In the early spring of 2013, a professor of "women's studies" (translator's note: Amer. Women's studies - a type of discipline that explores the role of women mainly from feminism) and psychology at the University of Western Carolina acted as one of the organizers of the group of experts on binding and sadomasochism. The goal of the group was to teach college students how to hurt themselves and others in order to gain sexual pleasure. When you called me the biggest shame that higher education saw, you probably didn't know anything about this group. Maybe that evening you were simply connected and could not attend the meeting ...
2. At the University of North Carolina at Chapel Hill, there is a feminist professor who believes that women can live happily without men. But her distinguishing feature is that she believes that women can have "relationships" with domestic dogs throughout their lives, which in fact should be enough to fill the absence of men. I'm not making this up, Ed. I do not consume acid. Well, at least since the end of 80-x not use. I am telling you for sure that this is a completely truthful story, and not hallucinations caused by LSD.
3. At Duke University, feminists hired a "sex worker" (ie, a prostitute) to perform at the so-called art show of sex industry workers. After his speech, the prostitute (this was a male prostitute) took off his pants, knelt and inserted a burning sparkler into his anus. While the fire was burning, he sang a couplet from the US Star Star anthem. It seems to me that this incident with a striptease was as shameful as the incident with the team of lacrosse at Duke University. (2006 scandal of the year, where the players of the team tried to imprison them for rape).
4. At the University of North Carolina in Greensboro, a porn actress was invited, who was paid a performance fee. The topic of the speech is "safe sodomy". After the speech, a porno-feminist was selling to the students present at the event butt plugs with her autograph. I'm really not sure if ink can cause rectal cancer. I do not understand medicine. However, I know for sure that when this
история
got into the media, the situation was, to put it mildly, very awkward.
5. Several years ago, at the University of North Carolina at Chapel Hill, a group of feminists in the middle of the campus opened a large museum with a vibrator, which was part of the "week of orgasm education." I think it was just the culmination of the semester, to put it in an academic way. But of course they were not at all ashamed to exhibit a wooden vibrator, made back in 20x, as an exhibit. As they say, watch out for the batteries, Ed. We are halfway there.
6. A feminist administrator at the University of North Carolina in Wilmington hosted an abortion support event. During the event, they sold T-shirts on which it was written: "I had an abortion." They were sold to students who ... in general who had an abortion. That's right, Ed. Students called to brag about the fact that they killed their own children. This is how the University of North Carolina system cares about the future of our great "Staff of the Pitch Hill".
7. The next semester, the administrator of the University of North Carolina in Wilmington organized a seminar at which students were taught how to appreciate their orgasm. I learned in college how to appreciate art. Now college kids are taught how to appreciate an orgasm. You decide, Ed, whether this higher education is dishonoring or not.
8. A few years ago, a professor of English at the University of North Carolina in Wilmington exhibited photographs of naked underage girls as part of the "art exhibition" at the university library. The rector ordered to remove the photo of naked girls from the library and drew the attention of the university union. This decision was made after several pedophiles were caught in the university library, who downloaded child porn from the Internet just a few meters from the "exhibition". The English professor flared up in outrage and demanded that the Senate of the Faculty endorse the rector for violating "academic freedom." The Senate of the Faculty took the side of a feminist professor. After this incident, the rector was under strong pressure because of which he had to leave the university.
9. Another feminist professor from the University of North Carolina in Wilmington accused a male professor of letting tear gas into her office. A little later, she was caught processing her mail in the microwave. She did this because she thought they wanted to poison her with anthrax spores, and processing in a microwave oven neutralized toxins. She was not dismissed for psychiatric reasons. Instead, she was appointed "official university expert on countering terrorism."
10. And then there is Mike Adams. He believes that marriage should be between a man and a woman. These are the options you choose, Ed. You can just write me a reply and say which professors, groups or guest lecturers were "the biggest shame that saw higher education" of North Carolina or all of America. Or maybe you still accept the possibility that our higher education system is in itself a disgrace, because it is captured by radical feminism.