According to the Defense News newspaper, the US Army is modernizing and will leave in service with 8585 MRAP-class armored vehicles from those currently at its disposal. The remaining 7456 of the American Army's MRAP machines will be written off.
Total US forces (including the Marine Corps and Special Operations Command) from 2006 have acquired more than 25 thousand MRAP class armored vehicles totaling about $ 50 billion.
Of the planned to leave in the US Army 8585 machines MRAP only 2476 machines will be left on the equipment of the linear parts. Another 1073 machine will be used as a training, and the rest 5036 - stored at various bases abroad. At the same time, it is planned to keep only three types of MRAP machines - the 5651 "lightweight" Oshkosh M-ATV machine (from 8700 purchased by the Pentagon from the 2009 of the year), the Navistar MaxxPro Dash 2633 and the MaxxPro 301 machine in the medical version.
It is planned to allocate an additional 1,7 billion dollars for 2014-2016 in the line of financing Overseas Сontingency Operations (OCO) for the repair and modernization of abandoned cars. The work itself will be carried out within three years at two enterprises - the Red River (Texas) army arsenal, where the cost of work will be 150 thousand dollars per car, and in Livorno (Italy), where the cost of work is estimated at 87 thousand dollars per car. At the same time, it is possible that the project financing will be stretched for a longer period. In the 2014 fiscal year, 321 million was allocated for the renovation program of the remaining MRAP vehicles through the CCA, and 2015 million was previously requested for the financial year 306.
The United States has now begun the process of getting rid of most of the 11 thousands of MRAP machines in Afghanistan. The cost of transporting one MRAP machine from Afghanistan to the United States, followed by repairs, is estimated at 250-300 thousand dollars. Therefore, the United States put 4000 "Afghan" MRAP machines on auction for sale to foreign governments in December - the condition is "pickup" buyer of purchased machines from Afghanistan. Several US allies have expressed interest in acquiring this technology, but so far no agreement has been reached. At the same time, some of the MRAP machines are destroyed on the spot with the sale of scrap metal to Afghan contractors. However, the cost of such a "demilitarization" of one MRAP machine is 12 thousand dollars.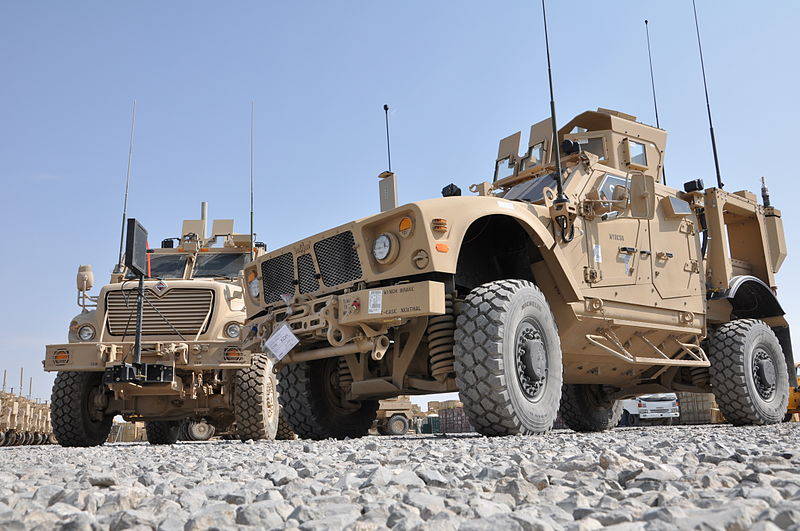 Two types of armored MRAP vehicles that the US Army plans to retain in service after the 2016 of the year are the Oshkosh M-ATV (in the foreground) and the Navistar MaxxPro Dash (in the background). The picture was taken on the occasion of the arrival of the first M-ATV vehicles in Afghanistan, 23.10.2009 (c) Elisebet Freeburg / US Army