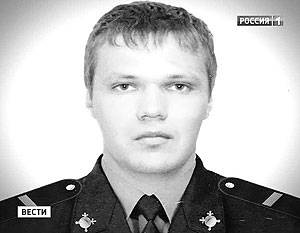 The senior sergeant of the police of a separate company of PPP of the Volgograd linear department of the Ministry of Internal Affairs on transport Dmitry Makovkin died in an explosion that occurred in the building of the Volgograd railway station.
According to the investigation, he died while trying to prevent the terrorist from passing to the station, RIA "
News
».
"Dmitry is presented to the Order of Courage posthumously. He will be buried in Volgograd on January 3 with full military honors, "the agency's interlocutor said.
For two days, Sunday and Monday, two acts of terrorism took place in Volgograd. The first blast thundered 29 December at 12.45 at the train station.
On Monday morning, in the trolleybus №15, near the market in the Dzerzhinsky district of Volgograd an explosion thundered, smashed windows in neighboring houses with a blast wave. From the trolley bus there was actually one frame, the roof was missing. Moreover, the explosion was of such strength that it knocked out the windows in the five-story building opposite.
As one of the likely versions of the explosion, the National Anti-Terrorism Committee (NAC) considered exploding a bomb planted in the cabin of a trolleybus. In the UK, said that the explosion was committed by a suicide bomber who activated an 4 explosive device with a kilogram of TNT.
As a result of two attacks, 106 people were injured, of whom 33 people died, 65 people were hospitalized with injuries of varying severity.
Since in both the explosive devices the striking elements are identical, this confirms the version of the investigation about the relationship of the two terrorist acts. Perhaps they could cook in one place.