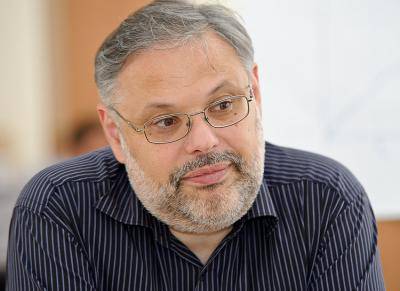 Can the current economic crisis be called the longest
stories
and is the EU economy expected to grow in 2014? A well-known economist and publicist Mikhail Khazin gave his forecast for our Company.
- This crisis can not be called the longest. Here you need to be very careful in the wording. The fact is that structural crises have two components. First - a sharp decline, then - a long depression. And in this sense, for example, the decline of the beginning of the 30-s of the 20-th century lasted somewhere from the spring of the 1930-th to the end of the 1932-th year. That is, 2 and a half years. But the depression then lasted 10 years!
If we count them together, then the current crisis is not the longest yet. But if we count the "falling" part, then, of course, it is very long. Because it is very stretched. If in the 2008 year, the United States of America had not started a furious emission, then the decline would have ended. And we would go to the normal depressive component. And accordingly, today we have this very recession, which is constantly compensated by emissions. And at the same time, due to the deepening of its bottom, which is not yet visible, this, of course, is bad from the point of view of the results.
But for today's European leaders, the main thing is that there is no rapid decline. And they are trying at any cost to give the situation some optimism. And accordingly, to portray that there is no recession. It turns out they have a bad. Because unemployment is growing. Economic growth, to put it mildly, is not very convincing - largely drawn, largely stimulated by emissions. But you understand, when you print money, they still get out somewhere in the form of profit! It seems that this is economic growth. In fact, this is not a growth, but a redistribution of emission money. In this sense, I do not see any optimism for Europe.
But the situation there is further deteriorating due to the growing internal political conflicts between individual subjects of the European Union. Due to the banal reason that some of the functions they already have in common. For example, the labor market. A vote is by region. And, accordingly, the current politicians do not like it that the unemployed are voting against them, while their workplaces are occupied by representatives of other EU countries. In this sense, Britain has already announced that it will expel any Poles, Balts from its territory. Not yet expelled, but soon expelled. The same will happen in other countries.
- And what economic factor has the greatest impact on the crisis?
- Drop in demand. In Europe, due to the growth of public debt, there were very powerful subsidies to consumers. Today it is already clear that it is impossible to keep subsidies at this level.
- Is it possible to call Europe's attempt to get closer to Ukraine a desire to expand its market in order to somehow overcome the crisis?
- Partially. I would say a little differently - this is an attempt by Europe to extend a positive, which in recent years has not been associated exclusively with mechanical expansion. And how to portray that no, all these positive processes are continuing. The attempt is extremely unsuccessful. And it is already clear that there is still no positive, and there will not be either for Ukraine or for Europe. And if the market had become common, it would have been an economic disaster for Ukrainians. And these would be certain problems for the European Union. But individual participants would, yes, get an additional market.