You look the next state purchases of the Ministry of Defense and you are surprised. For example,
tender for the purchase of 610 radio stations
portable vhf band
P-168-0,5UM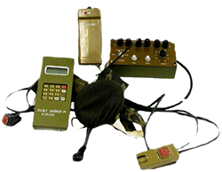 One radio station costs 873 759 rubles 76 kopecks with 3 warranty years of operation.
The rationale for the price is the following (the only supplier):
Information (information) of manufacturers (suppliers) on prices for goods, works, services
- the answer from 16.08.2013 No. 376 / 6264, according to which the unit price is 874 616 rubles 00 cop. (VAT included);
The manufacture and supply of portable radio stations is provided for by the state defense order for the 2014 year and for the planned period of 2015, 2016.
Based on the analysis of the customer, the cost reduction relative to the price of the commercial proposal for the radio stations of the portable VHF band P-168-0,5UM was made in accordance with the requirements of the order of the Ministry of Economic Development of Russia from 16.04.2008 No. XXUMX and the letter of the Ministry of Economic Development of Russia from 104 No. XXUMX-AK / DOZk (reduction of profit) from the calculation: no more than 09.10.2012% for own costs in production and no more than 21684% for imported costs) and amounted to 20 rubles.
As a result of applying the method of direct calculation for cost items, taking into account the size of the profit (no more than 20% + 1%), the customer sets the price per unit of goods:
- Portable VHF radio stations P-168-0,5UM (ITNI.464511.029TU3, ITNYA.464511.029-17.01, delivery kit ITNYA.464511.151-32, in the package IKMS.464956.011) - 873 759 rubles 76 cop. (VAT included).
There are also tenders for similar radio stations (
type P-168-0,5U
), which are already cheaper - 756 995 rubles 89 kopecks per set.
At the same time, the mobile radio station VHF band P-168-25U-2
estimated
total 866 164 ruble.