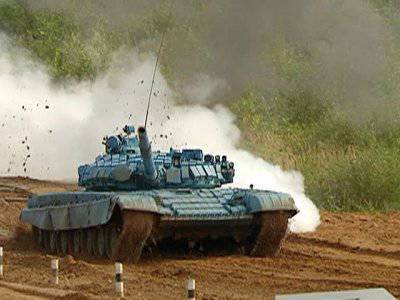 In the Leningrad Region, preparations are under way for international tank biathlon competitions. Although there are still eight months to start, the crews have a lot to do, for example, to bring all the elements of the program to automaticity. Among those who will take part in the championship 2014, and the current champions.
It's almost eight months before the start of the 2014 tank biathlon competition, but now it's important to bring the action to automaticity. Driver mechanic
tank
T-72 Igor Artemyev at the helm of a combat vehicle is not the first year. At the tournament held this year in Alabino, his crew was second to none. The team became the best not only among the Russian participants, but also confidently beat the squads of Kazakhstan, Armenia and Belarus.
"I liked the fact that I had to compete with all the crews. All the army, from all districts. I wanted to see what kind of crews the CIS teams have," said Igor Artemyev, 138 mechanic rifle brigade driver.
Here, everything is like in a real sport: the route for tanks is three laps of six kilometers with obstacles, at the finish of each lap is a firing line. They shoot at targets that imitate armored vehicles. For every mistake or exit from the route - a half-kilometer penalty circle.
Driving, overcoming obstacles, searching for a target, shooting - all these exercises are performed by tankers, as a rule, separately, while in biathlon, all operations are combined into a complex and performed for a while. Military experts say that the effectiveness of training crew members with such a new sport will only improve.
The Russian crew, led by Nikolai Morokov, is the first world tank champion in biathlon. Having learned about the recruitment of a team in such an unusual sport, at first people were very surprised, no one knew what they would have to perform on the court. The chief of staff of the tank battalion, Andrei Petrov, recalls: "They didn't know what criteria they would choose. started driving and shooting. "
In the spectator stands - a full house. About three thousand spectators, among whom were foreigners, came to watch the sport using heavy military equipment. The military from Germany, the United States and Italy have already expressed their desire to take part in the competition next year. By the way, the Italians plan to participate in the Centaur wheeled tanks, but the current champions believe that the secret of success lies not in technology. "The main thing is crew coordination and understanding of each other. Then there will be a victory," says mechanic driver Igor Artemyev.
The winning team of international competitions has yet to go through the qualifying round of the Russian stage. In the meantime, Igor Artemyev intends to bring the passage through the bridge to automatism. In his opinion, this is the most difficult obstacle of tank biathlon.