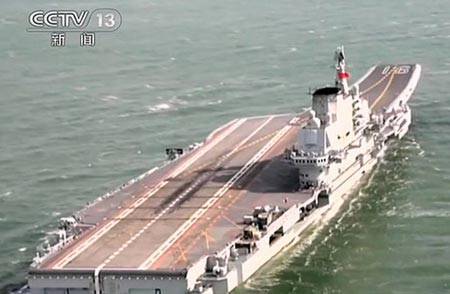 China will begin building two aircraft carriers with a conventional power plant in Dalian and Shanghai in 2014 and 2015, a source at the Central Military Council of China told Duowei News, operating outside China. Reports wantchinatimes.com about it.
According to the PRC Central Military Council program "Project 48," China intends to create three aircraft carrier strike groups by 2020 with one AUG in each
navy
Navy PLA. Two new aircraft carriers of their own construction, Type 001A, will be an updated version of the first Chinese aircraft carrier Liaoning (pictured), which was originally a Soviet aircraft carrier of the Admiral Kuznetsov class and was purchased in Ukraine in 1998. New carriers are also likely to have a nasal take-off ramp, Duowei reports.
Sources said that the main purchasing department of the PLA has already concluded a contract with China Shipbuilding Industry Corporation for the construction of two aircraft carriers. The total cost of aircraft carriers is estimated at 9 billion US dollars.
According to sources, China has not yet decided whether J-15 will be replaced by J-31 stealth fighters as the next-generation carrier-based fighter. The J-31, like the one entered into service with the J-15, must take off and land on the deck of the Liaoning aircraft carrier. Sources said that the decision will be made after the construction of the second and third aircraft carriers of their own project. This will give the PLA more time to choose a new type of carrier-based fighter needed in the future, the source added.