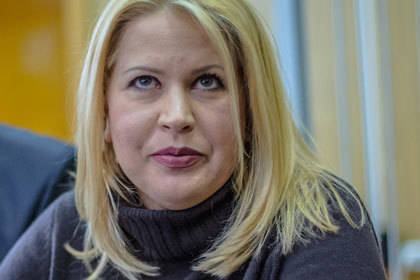 The judicial board of the Moscow City Court on Thursday canceled the decision of the lower instance to extend the home arrest of the female employee of the Oboronservis case, former head of the Department of Property Relations of the Russian Ministry of Defense Yevgenia Vasilyeva, to 23 in February 2014, and sent the issue for review, RAPSI reported.
The term of the house arrest of the ex-official of the Ministry of Defense expires, according to the decision of the Moscow City Court, 26 of December 2013 of the year. The court by this time must re-consider the petition of the investigation to extend the house arrest.
During the trial, Vasilyeva stressed that there were no grounds for extending house arrest. "It's obvious to me that this criminal case has been fabricated," she said. According to Vasilyeva, all her surroundings are being harassed, including doctors. "Some of the prosecutors refuse to treat me," explained the defendant. She called the decision of the lower court illegal and accepted with numerous violations.
"The decision was lawful and justified," representatives of the prosecutor's office and the investigation insisted. They asked the Moscow City Court to leave Vasilyev under house arrest. The prosecutor called the decision of the court of first instance "detailed, motivated, on seven pages." "I have never seen such detailed resolutions before, every argument has been evaluated," he said.
The reasons for which the Moscow City Court canceled the decision of the lower court to extend the arrest, will be known after the preparation of the full text of the decision.
Vasilyeva has been under house arrest since the end of November 2012. Her case on 12-ti episodes is allocated from the main business "Oboronservisa." The total damage on them, according to the main military investigative department of the Investigative Committee of Russia, exceeds 3 billion rubles. According to the investigation, Vasilyeva, along with others, was involved in the theft of the property of the Oboronservice subsidiaries.
The scandal around Oboronservis broke out in October 2012 of the year. On the facts of fraud in real estate transactions, land and shares belonging to the holding company controlled by the Ministry of Defense, five criminal cases were initiated.
As a result of the scandal, several high-ranking officials, including Defense Minister Anatoly Serdyukov, lost their posts in the ministry.