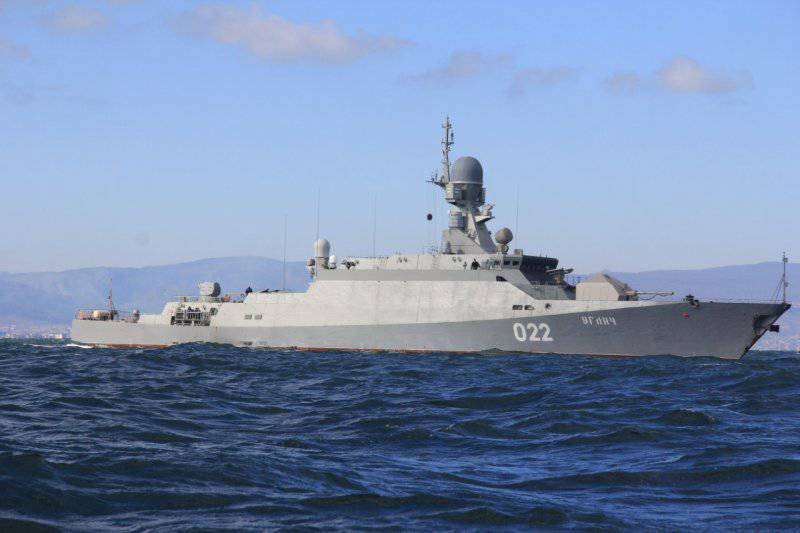 The work of the state commission as part of the representatives of the Naval
fleet
and the manufacturer's factory, which is hosting the two newest small missile ships Grad Sviyazhsk and Uglich as part of the Caspian flotilla, is coming to an end, the press service of the Southern Military District (Southeast Military District) said.
"During the state tests, the crews of the ships successfully carried out four rocket firing with the high-precision Caliber-NK universal missile system: two firing was conducted at the naval target and two at the coastal," said the Southern Military District. - All missiles accurately hit the target.
"At present, on the lead ship - IRA" Grad Sviyazhsk "all stages of state tests have been successfully completed," they informed in the district, ITAR-TASS reports.
"The crew of the ship conducts an audit of weapons systems, devices and mechanisms. Members of the selection committee make up a deed of acceptance, "it was informed.
According to the press service of the Southern Military District, the first serial ship, the Uglich, will be launched at sea in the second decade of December for the last stage of state tests.
After its completion, the act of handing over the ship will also be drawn up.
After the acts are signed and approved by the commander-in-chief of the Navy, the ships will be incorporated into the Caspian flotilla.
The lead ship of the 21631 project (code "Buyan-M") "Grad Sviyazhsk" was laid on 27 August 2010 of the year.
The second order of the project, laid out by 22 on July 2011, was given the name Uglich.
27 August 2011, the third ship was laid, named "Great Ustyug".
The fourth ship, laid 29 August 2012, on the eve of the Day of the Republic of Tatarstan and the 80 anniversary of the city of Zelenodolsk, is called the "Green Dol".
The ships of the project "Buyan" are equipped with unique propulsion systems consisting of two water jets, they provide the ship with a small draft on the move.
Due to the small draft and high maneuverability, the ship is able to solve a wide range of tasks in shallow water in the coastal zone of the Caspian Sea, on the river and in the mouth, as well as in other "narrow" water areas.
The architectural appearance of the ship meets the requirements for reducing radar visibility, thanks to the use of "stealth technology."
The main armament of all ships of this project is the Caliber-NK universal missile system, capable of using several types of high-precision missiles, both on surface and coastal targets at ranges up to 300 km.