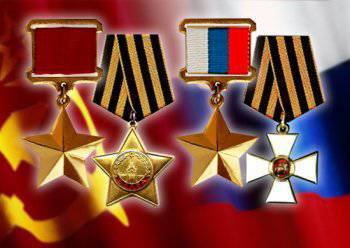 The Day of the Heroes of the Fatherland was established on February 28 2007 of the year in connection with the introduction of amendments to Article 1-1 of the Federal Law "On Days of Military Glory and Memorable Dates of Russia".
Today, on the Day of the Heroes of the Fatherland, Russia honors all its sons, at various times awarded its highest military awards - the Knights of the Order of St. George, the Heroes of the Soviet Union, the full Knights of the Order of Glory and Heroes of the Russian Federation.
Today's holiday is a relatively new memorable date, which, however, has nearly two hundred and fifty years
history
. The establishment of this memorable day is intended to restore historical continuity: before 1917, on this day in Russia, the feast of St. George's Holders was celebrated.
November 26 (December 9 new style) 1769, the highest order of Empress Catherine the Great, established the highest military order of the Russian Empire - the Order of St. George the Victorious, who for more than a century and a half was awarded Russian soldiers who showed valor, bravery and courage in battle. Since then, a good tradition has developed in Russia - to celebrate the Feast of the St. George Cavaliers on this day, honoring all the Order gentlemen - from the great celebrated commanders Alexander Suvorov, Grigory Potemkin, Mikhail Kutuzov to ordinary soldiers, sailors and Cossacks who were awarded this highest award.
The status of the highest military award in Russia was returned to the Order of St. George 13 years ago, according to Decree of the President of the Russian Federation No. 1463 of August 8 of 2000 of the Year "On Approval of the Statute of the Order of St. George, the Statute of Honor - St. George's Cross".
The title of Hero of the Soviet Union was established in 1934 year. For 57 years, the 12265 Man has been awarded the Star of the Hero by the Ministry of Defense.
In 1943, the Order of Glory of three degrees was established to award soldiers and sergeants who showed heroism in battles with the enemy. The award ceremony was held until the summer of 1945. During this time, 2640 man became his full gentlemen.
The title of Hero of the Russian Federation was established in 1992, for 21 the year 579 military men were awarded it.