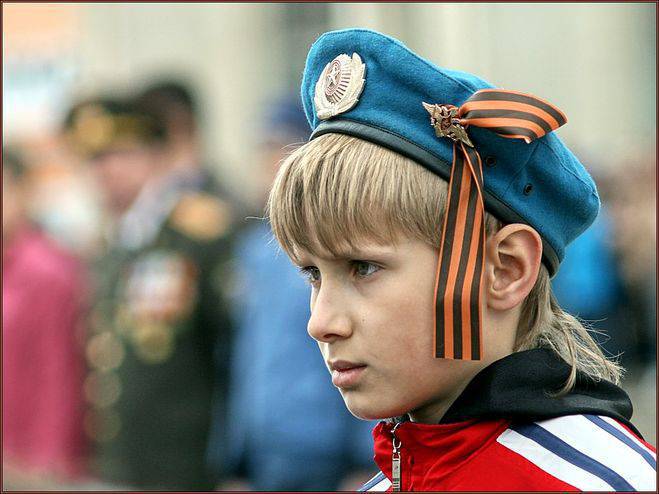 Permanent columnist for the resource nstarikov.ru Yevgeny Chernyshev once again raises the most important topic of patriotism.
"An increasing number of people in Russia call themselves patriots. And it is great that the idea of ​​patriotism confidently wins the hearts and minds of our compatriots. However, we must face it. For the time being, this patriotism is not only spontaneous, but also rather loose. What I mean, I will try to explain below.
The Russian people have a deep need for the greatness of our Fatherland, which is not inherent to any other people with such force. This feeling is manifested in the rejection of those ridicule of our greatness, which we observe in everyday life. And, observing, naturally indignant. We want to revive our greatness! Inspire this idea with our society. In my opinion, this goal is certainly good and correct. But how do we understand this? Here begins the complexity.
It turns out that the society for many of us is not very concerned for me personally. Nothing can be done, 20 years of introduction of consumer installations make themselves known. And in order that this consumer consciousness does not take root in us even more, we need to think deeply and answer one important question for ourselves.
Here it is: am I personally responsible for the revival of Russia and, if so, what obligations does it impose on me?
It would seem the answer is obvious. The overwhelming majority of those who consider themselves to be a patriot will answer in the affirmative: yes, I am responsible for our revival and put some effort into this. However, things are not so obvious.
It all depends on how patriotism is understood. There are two possible answers in principle: 1) patriotism is action; 2) patriotism is a state. In the first case, patriotism means doing something for the good of the Fatherland. In the second case, patriotism means to be someone for the good of the Fatherland. It would seem that these answers accompany each other. But it's not always the case. Our problem is that we believe that it is enough just to conduct patriotic activities - and this already means being a patriot. This is a deep misconception. To conduct any kind of patriotic activity does not mean to be a patriot.
This does not mean that you do not need to do anything. This means that you need to do it, but - being a patriot in your heart. Always, everywhere and in everything! If each of us will be like this, then our common activity will not be long in coming, it will naturally flow out of our patriotic state. We can not lead her, as we can not live without air. It will be the inevitable consequence of our patriotism. Regardless of how people around us behave.
Approximately the same is true for deeply religious people, whose faith is so strong that they transform themselves and the world around them without noticing it. They do not set themselves this task, since for the believer it is "automatically" implied. They "only" deeply believe. But they believe SO that this faith becomes a source of spiritual transformation. After all, the believer is not a believer only in the temple. So we should be patriots not only on certain days.
Patriot, i.e. the one who loves the Fatherland is the one who always carries the Fatherland in himself, who is always his image, who is always aware of his great mission of reviving the Motherland in his person. Yes, it is in his face. Each of us is the face of our Motherland, unique and inimitable. When we take the path of spiritual rebirth, the whole of Russia becomes in our face on the same path. You should not make excuses that "one doesn't care from me alone ...". Loving the Fatherland can not say so. If you think that nothing depends on you, it means that you are not yet ready to shoulder responsibility for the fate of the country. Not in the sense that the fate of the whole country depends on you personally, but in the sense that I personally, as an image of the Fatherland, have no right to indulge myself. If I have, then what is my right to demand another from the Fatherland? This is slyness.
So, you need to be a patriot. Anytime and anywhere. And for this you need to establish patriotism by your personal example. It's hard. But do we have another way out? We cannot restore high spiritual demands without making them to ourselves. But, unfortunately, it occurs very often. There are lots of examples.
Many scold the current television, as if nothing had happened watching him at home. Young people are accused of debauchery, with pleasure watching him on TV channels. They complain about the dominance of foreigners, buying completely foreign. Outraged by the lack of knowledge of the Russian language, listening to English-language songs. Or its pollution by foreign words, quietly using them in his speech. Finally, they are lamented by the corruption of morals, not disdaining prodigal cohabitation (the so-called "civil marriage") or random connections at all. I'm not talking about bribes, giving which is the same as spitting, but persistently justifying myself after this that "without solving anything". And "sit" on modern music, condemning "pop music" - isn't it hypocrisy? So, if I am engaged in fooling around, listening to indecency, then this is "out of fun", and if others do the same, then this is "stupid pop" and zombie. Isn't this a mote search in someone else's eye?
Those who were involved in the development of mathematical models know that each model is suitable for a specific range of tasks. When conditions change, the model must be developed anew - for these new conditions. But there is easy - and deceitful! - way. If the new conditions are somewhat similar to the old ones, then we simply take the old model and make some corrections to it for the new conditions. But this is a completely wrong way! For amendments are made to the old model, only cosmetically "combing" it for new conditions.
In the case of a patriotic question, the same mistake is possible. I live the way I want, I don't change my lifestyle, I consider it possible for myself a lot of what I consider unacceptable for the Fatherland - but at the same time I bring in the old model of my behavior an amendment - "patriotic activity". That is, I lead life as before, but under the renewed "patriotic facade". It is here that the inadequacy of patriotic activity is manifested without a personal patriotic state.
Either we love the Fatherland, always and everywhere reviving it in our face, or we "love" it at rallies, meetings, online, etc., and then the price for such "patriotism" is worthless. Yes, we must participate in meetings, rallies, and work online. But all this should be only a consequence of our patriotic state, and not a goal. Whoever is a patriot in his heart, he will do everything for the benefit of the Fatherland. And who simply "works as a patriot" at a certain time, and for the rest does not burden himself with high demands, he will bring little benefit.
To "love" the Fatherland at rallies without bearing personal obligations always, everywhere and in everything to be its worthy image is the same as "loving" your family without bearing any personal obligations of its spiritual growth and material support. Or to lead a dissolute life, but at night "convince" your wife of love for her ... But this often happens. And do not such dangers lurk on our path to the revival of the Fatherland?
Lurk! And we must be ready. And this means that we can be patriots of our Fatherland, only striving to be its worthy representative, image, person. No self-justification, no indulgence to yourself! After all, who will believe once lied? And can it inspire patriotism without a personal example?